MKR1000 Surprise Room Decoration
This project is dedicated to my parents, but you can also use it for surprise events for someone special.
Things used in this project
Story
Project Theme
When Arduino launched this competition, I started thinking of ideas about the automation of different things. Many guys submitted projects related to Christmas trees and home automation, but suddenly an idea came to mind about parents. Our parents are our friends from childhood to older age, they sacrifice everything for us. They work hard for us, but when we grew up, we leave the nest and start our own journey. In this fast journey, many times we miss celebrating very important special events with our parents like religious festivals, weather seasons, parent's anniversary, Mother's & Father's Day, etc. due to far distances.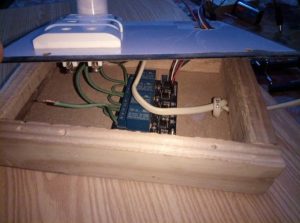 Now thanks to the help of the MKR1000 board, we can decorate our parents room with a disco multi-color bulb and other multi-color lights strips and wish them special occasions surprisingly no matter where we are. Thanks to Blynk for such an amazing app.
Hardware
In this project I have 4 sockets which are connected with a 5V 4-channel relay module. And the relay module is connected with MKR1000. So I have 1x disco bulb that is for my parents' marriage anniversary; I connect it to MKR1000 digital pin 10 and relay pin 4.
1x red LED light strip, as red is a symbol of Love so I am going to use it on Mother's & Father's Day, and connect it to MKR1000 digital pin 9 and relay pin 3.
1x RGB LED light strip to wish a happy new weather season or new year to my parents, and connect it to MKR1000 digital pin 8 and relay pin 2.
1x multi-color blinking light strip for my father's & mother's birthdays, and connect it to MKR1000 digital pin 7 and relay pin 1.
Setup
Below is a picture of my custom relay box in which I used the 5V 4-channel relay module, and all sockets are connected with the relay module.
Read more: MKR1000 Surprise Room Decoration
Project Ratings:
Related posts