The MEMS (microelectromechanical system) market is starting to motor. It grew at just over 10% last year and is likely to grow even faster this year.
This is good news for the 'newest' semiconductor device market. But can it continue to grow at this rate?
Market analyst Yole Développement has already warned of price pressures pegging back revenue growth over the next few years.
According to Yole, price pressure will limit market growth and from 2013-2019 consumer market revenue will only grow modestly at 13%.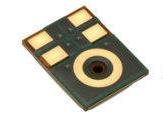 But MEMS suppliers have a bigger worry. The market is growing largely because of a single product type – the MEMS microphone.
Even more worrying, apart from sales (a few 100,000s a year) for specialist products such hearing aids, the MEMS  microphone market is overly dependent on the smartphone and one customer in particular – Apple.
Two years ago, the adoption of MEMS microphones in smartphones, offering both small size and audio quality benefits, has injected the fledgling MEMS market with steroids.
According to IHS, just two suppliers Knowles and Infineon Technologies dominate the market for MEMS microphones.
According to IHS, Infineon's MEMS sales grew by 50% between 2012 and 2013.
But as with such things, the question is how long can it last?
It is never good for a semiconductor market to be too dependent on a single product type.
The hand that so easily giveth can just as easily take away.
The smartphone market is an exacting place to operate if you are a component supplier.
For more detail: MEMS sound great, but can it last?