Not too many years ago, talking to the air and expecting a response was either the sign of a hardcore Trekkie or someone with an over-developed or diluted imagination. Now, of course, voice assistants like Amazon Alexa and Google Assistant are not only commonplace, they're actually now in use by more than half of the world's smartphone users.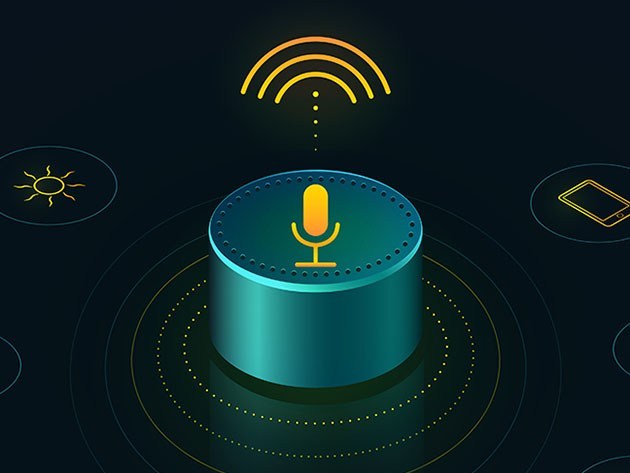 And Alexa and Google can do far more than cue up your favorite song or tell you the weather. In fact, you can create your own apps for controlling a smart home, managing a business, or just keeping yourself entertained with the training in The Learn Amazon Alexa Development Bundle.
This package features 10 courses and more than 25 hours of training in all things Amazon Alexa as well as Google Assistant, from creating simple skills to highly specialized customization that can make your voice assistant the true center of your universe at home or in the office.
A majority of the courses in this collection center around Alexa, starting with a pair of introductory sessions in Mastering Alexa and Learn Alexa the Fun Way. 
But you'll soon find that's just the tip of the iceberg. Step by Step Alexa Skill Development and Building Voice Apps Using Amazon Alexa advance your training, offering ways with the use of the Alexa Skill Development Kit to develop skills for creating your own task lists, controlling webcams and LEDs, even running your own home-based server just through the power of your own voice.
Teachings get even more specialized in courses that help you adapt Alexa for work (Mastering Alexa for Business), creating your own flash briefings (Ultimate Guide to Building Flash Briefing Skills with Alexa) and helping Alexa work hand-in-hand with other home automation aids like the Raspberry Pi (Building Alexa Skills for Home Automation with Raspberry Pi) and Internet of Things (Arduino IoT Cloud Bootcamp: Learning to Use the Arduino IoT Cloud Platform).
Of course, if Alexa isn't your thing, there's also training (Learn Google Assistant in 48 Hours and Mastering Google Actions) in using its biggest competitor, Google Assistant to your own ends.
All this training has a retail value of $2,000, but by getting the entire package now, all 10 courses are available for just $25.
Source: Learn how you can build versatile apps for Amazon Alexa and Google Assistant with this training