If your project demands some high precision analog measurements, then here is a new Olimex BB-ADS1262 that can help get the job done easily; with up to 10 channels of 32-bit ADC conversion, the new BB-AD S1262 breakout board is considered a great add-on for microcontrollers.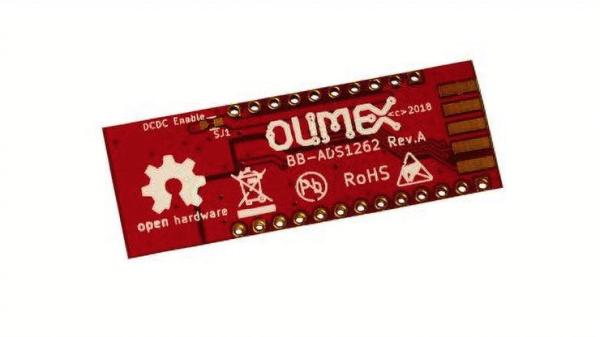 Before, system designers who needed a high-resolution analog-to-digital-converter have to sacrifice certain desired specifications like low noise, low offset drift, and several other integrated features. Things have however become easier as there are now ADCs that have helped to eliminate these trade-offs by providing a high resolution alongside fault-detection features, faster data rates, and wider temperature range, thereby maximizing performance.
The new BB-ADS1262 from Olimex is built around the Texas Instrument ADS1262 ADC chip and offers up to 10 Channel low-noise low-drive 32-bit ADC on an Open-source hardware breakout board.
"The BB-ADS1262 is a breakout board for the ADS1262 low-noise, low-drift 38.4 KSPS, delta-sigma ADCs with an integrated PGA (Programmable Gain Amplifier), reference, and internal faults monitors. Possible applications are sensor reading, small signals (ECG / EEG), weight scales, strain gauge sensors, thermocouples, and resistance temperature devices (RTDs)."
says the Bulgarian open source specialist as he launches his new design.
The 10 channel sigma-delta precise 32 bit ADC breakout board is fully open source according to the Open Source Hardware definition and licensed under the CERN – Open Hardware Licence Version 2.0; software is released under the GPL3 Licensee (including an Arduino demo code) while the documentation is under a CC BY SA 3.0.
Designed for high accuracy and stability, the BB-ADS1262 breakout board has some key features worth taking note of, including;
Up to 32-bit ADC conversion precision
Data rates of 2.5 samples per second to up to 38,400 samples per second
An offset drift of 1 nV / 0C and a gain drift of 0.5 ppm / 0C
CMOS programmable gain amplifier plus Differential Input
Read more:LATEST OLIMEX BOARD BRINGS 10-CHANNEL 32-BIT TO OSHW BUILDS