The original version of the ISS-Above was funded through a successful Kickstarter nearly 1 year ago.  Since then more than 800 ISS-Above's have been installed worldwide.
At the heart of the ISS-Above is the lovable and successful single board computer called a Raspberry Pi.  Over 5 million of these little computers have been sold worldwide.
The ISS-Above functionality has been drastically improved since the first Kickstarter with some truly remarkable new features – including the display of live HD video views of the earth directly from cameras on the International Space Station.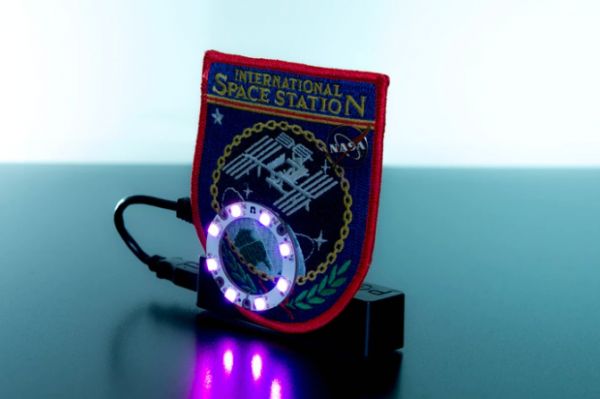 In this new Kickstarter we're offering the latest version of ISS-Above, the ISS-Above HD+, which responds to a demand for the support of bigger LED displays, and it also includes a brand new, wearable add-on that can be programmed wirelessly to track the ISS on the go!  Both of these options stem from the main goal of this project, which is to  offer the most flexibility of display options,especially for use in public or school settings.
To develop  this set of custom add-ons for ISS-Above, I partnered with a DIY Electronics startup also in Pasadena (Acrobotic), and after 6 months of iteration, we're ready to offer you a brand new experience for keeping up to date with the ISS!
REWARD CATEGORIES
There are three main reward types in this campaign. Please note that, the choice of reward will vary depending on whether you've recently purchased an ISS-Above, own a Raspberry Pi, or are a newcomer to the project (see REWARD OPTIONS section below).
ISS-Above HD+ HAT and LED Strip
This reward is the most inexpensive way to connect a big LED strip to the ISS-Above. Using a little daughterboard that you plug on top of the Raspberry Pi (dubbed HAT for Hardware Attached on Top), you can connect a 1-meter strip of 52 multi-color LEDs (included), which will display different animations based on how close the ISS is from you. The kit contains:
ISS Above HD+ HAT and mounting hardware
1m LED strip with 52x multi-color LEDs
With this reward, you receive a do-it-yourself, e-textiles kit that you can assemble very easily to make a wearable ISS-Above. The kit contains:
Pulsar BLE sewable board
1.8" LED Ring with 8x multi-color LEDs
1m conductive thread and needles
ISS patch (design subject to change)
6ft thin microUSB cable
5V 2600mAh USB rechargeable battery
Step-by-step instructions will be of course be available detailing the assembly of this nifty little device!
For more detail: ISS Above HD+ with Wearable Bluetooth Low Energy LEDs