DuPont Advanced Materials (DuPont) in association with Taiwanese company Formosa Taffeta, has developed a powered smart clothing technology named Intexar™ Heat, for on-body flexible heating garments.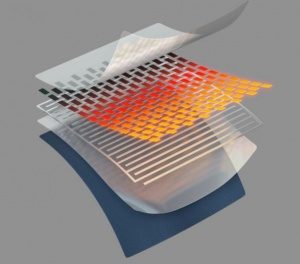 The new fabric is thin, lightweight, and durable. The Intexar™ Heat is an ideal solution for outdoor clothing and it is designed to be easily integrated into garments. This innovative technology consists of a thin layer of carbon resistors, interconnected by an underlying layer of silver electrodes printed on a stretchable thermoplastic polyurethane (TPU) laminate. The silver electrodes supply currents throughout the resistor grid to radiate a right amount of heat within garments. By default, the active layer is sandwiched between a plain or customized outer protective layer. This protective layer shields the heating element from exposure and the fabric making up the garment.
Michael Burrows, the global business manager at DuPont Advanced Materials, described Intexar™ Heat as a revolutionary stretchable ink and film that when powered, creates a comfortable warmth. Formosa Taffeta Company will be the first textile manufacturer to apply Intexar™ Heat technology as part of its Permawarm® line. The new Permawarm® lineup will provide clothing with a complete garment heater system including the Intexar™ heater layer, connectors, and control software.
James Lee, president of FTC, said,
With Permawarm™, clothing brands can focus on garment design and brand engagement. We are taking the guesswork out of bringing their customers safe and comfortable heated garments.
Intexar™ materials can also be very useful in biometric monitoring in smart clothing. Pulse rate, respiratory rate, muscle activity and form awareness are all measurable using sensors and conductive pathways built from Intexar™ which makes it a complete smart garment solution.
Read more: Intexar™ Heat – A Revolutionary Stretchable Ink And Film Technology To Make Flexible Heated Garments