I'm Fine
The "I'm Fine" project is about monitoring the well being of especially lonely elderly people, who may not have daily contact to the family.
Story
I have a complete description of this project on my GitHub repository. You can also go there to read about my project.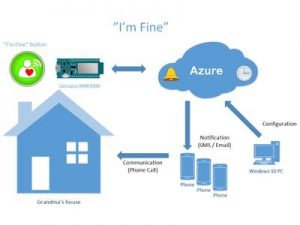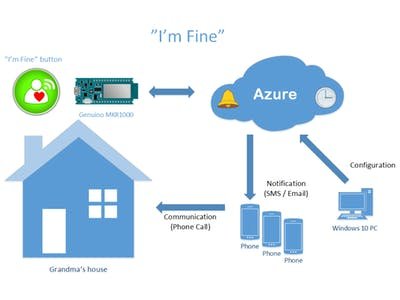 Project Overview
The "I'm Fine" project is about monitoring the wellbeing of especially lonely elderly people, who may not have daily contact to the family or other people. In this project I have chosen to represent the typical user as "Grandma".
This project provides a simple solution to help monitor people in a non intrusive way. By pressing a simple button a few times a day it can be signaled that I'm Fine and no help is needed. If the regular signalling stops, the system detects this and sends out email alerts to the family members, who can then take proper response. This ensures that in case of a personal problem preventing the person from pressing the button, help can come in hours instead of days or maybe even longer..
Future options
The implementation on the Arduino/Genuino MKR1000 device side is intentionally kept simple, with very few features, but the system can easily be expanded with other types of sensors. Sensors like movement detection using a PIR sensor, a smoke detector to detect fire, a temperature sensor to detect abnormal temperatures in the house and so on.
This project actually already implements a DHT22 sensor to measure temperature and humidity, mainly as a proof of concept and for testing the communication between the MKR1000 device and the Microsoft Azure IoTHub (data it is not monitored in the main application as of now).
"Grandma" lives alone
This section tells a story about Grandma.
Grandma lives alone in her house and she doesn't talk to her family every day.
Her children lives far away from her, so she only gets a visit every week or two. Her children are often busy with their own stuff, so they don't call her on the phone as often as they would like.
Grandma is fine with this, as she is still able to take care of herself, but as she is getting older she would like the safety of someone checking up on her every day, making sure she is alright. She has heard scary stories about older people getting ill and not getting any help in time – she doesn't like that thought!
Grandma is an independent person and don't want to bother her children to call her on the phone every day, even though she knows that they would be happy to.
Problem solved: The "I'm Fine" system
Next week, Grandma is getting the new safety system, called "I'm Fine", for elderly people who may be at risk of suddenly getting ill and not being able to call for help.
With this system she only has to press the big button a couple of times a day when it starts to blink and makes a beeping sound. When she press the button, the light stops blinking and the beeping goes away. After a few seconds she hear a new sound signal from the device. This is the way of the safety system to tell her that she has sent a message letting her children know she is OK.
The system monitors all the button push messages from Grandma and if she does not push the button in time, the system will detect this and send out SMS and/or email messages to her children and to the neighbor. Then they will know that something may be wrong with Grandma and they must call her to hear if she is alright. If she doesn't answer the phone they maybe also need to visit her to help.
As long as Grandma push the button within a configurable set time, to report that she is fine, the system will not notify her children.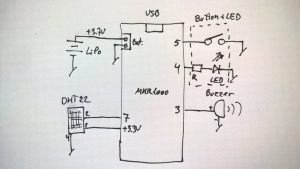 When the children receives an alert message from the "I'm Fine" system, on their phone, they know that they must call Grandma to check up on her – maybe she just forgot to press the button!
With the new system, Grandma knows that if she does not push the "I'm Fine" button regularly, it will only be a short time, before her help is on the way.
Read more: I'm Fine
Project Ratings:
Related posts