Para quem pratica este hobby sabe que a temperatura do motor é muito importante, não só para o desempenho mas também para garantir o bom funcionamento e durabilidade do motor.
Ele regista a temperatura do motor do meu helicóptero durante o voo 2 vezes por segundo e armazena-a na memoria.
This circuit is a small  "on-board" temperature recorder for RC models.
For those who practice this hobby know that the engine temperature is very important, not only for performance but also to ensure the smooth operation and durability of the engine.
It records the motor temperature of my helicopter in flight 2 times per second and stores it in memory.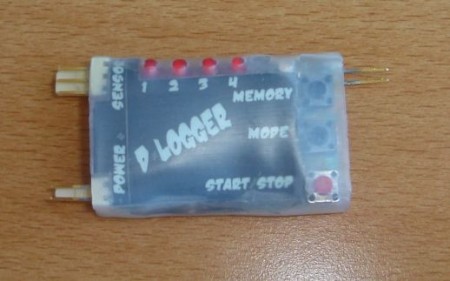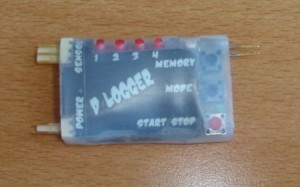 Internamente tem um microcontrolador 16F88 da Microchip que é o coração do registador e uma memoria 24LC512 da Microchip dividida em 4 blocos. Desta forma posso efectuar 4 gravações de dados independentes, extrair, apagar e re-gravar individualmente.
Cada bloco de memória armazena 15 minutos de dados o que para um voo de helicoptero chega perfeitamente.
The PCB size is only 51×30 centimeters.
Internally has a 16F88 microcontroller from Microchip that is the heart of the recorder and a 24LC512 eeprom memory also from Microchip divided into 4 blocks. This way I can make 4 independent data recordings, extract, delete and re-record individually.
Each memory block stores up to 15-minutes of data which for helicopter flights is more than enough.