Earlier this month, Google released Android Things 1.0 and announced many consumer products that will ship in the coming months based on the stripped-down, IoT-oriented Android variant. Google uncovered four ARM-based production boards for Android Things 1.0: Innocomm's i.MX8M based on WB10-AT, Intrinsyc's Open-Q 212A and Open-Q 624A, based on the Snapdragon 212 and 634, respectively, and the MediaTek MT8516.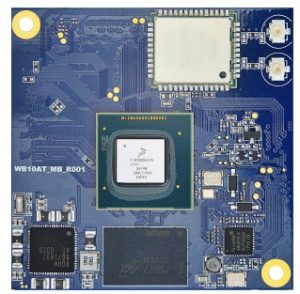 The most important news with the first market-ready release of Android Things is that Google is offering free OTA security and patch updates for three years to all targeted devices. However, Google needs a licensing deal to deploy more than 100 commercial systems using the OTA updated long-term version of Android Things, and the OS itself is "managed" and tightly controlled by Google.
The modules share the same small footprints of about a 50 x 50mm. They also focus on audio features that might support integration with the Google Assistant voice agent. The first round of consumer devices using Android Things are smart speakers and automation hubs that integrate Google Assistant.
WB10-AT
InnoComm's 50 x 50mm WB10-AT COM is almost identical to the WB10 module announced in March. The only difference except for the OS is that the AT version ships with 1GB LPDDR4 instead of 2GB. The WB10-AT includes a 1.5GHz, Cortex-A53 based NXP i.MX8M Quad SoC with a 266MHz Cortex-M4 core. It extends 8GB eMMC, 802.11ac, Bluetooth 4.2, and a GbE controller.
The WB10-AT allows HDMI 2.0 with 4K HDR support, as well as extensive audio I/O enabled by the audio-savvy i.MX8M. Audio specs include 4x SAI, DSD512, and S/PDIF.
Open-Q 212A Development Kit
Intrinsyc's Open-Q 212A is a sandwich-style SBC designed for next-gen smart speaker and voice-controlled home hub products. There is a new 50 x 46.5mm Open-Q 212A Android Things SOM with a quad-core, Cortex-A7 Qualcomm Snapdragon 212 (SDA212) — the lowest-end SoC available for Android Things mounted on a 170 x 115mm carrier board.
The new module provides 1GB LPDDR3, 4GB eMMC, WiFi-ac, and BT 4.2. The 12V carrier board adds 2x USB host ports, a micro-USB client port, and a micro-USB debug port. It also includes a MIPI-CSI and MIPI-DSI interfaces, with the latter capable of up to 720p LCD displays. PCB antennas are also available.