WARNING!! You will play with LIVE MAINS!! Deadly zone!! 
If you don't have any experience and are not qualified for working with MAINS power I will not ecourage you to play arround!
Because of the high interest in the subject, a new dedicated Dev Board has been born:  MPSMv2, a small ESP8266 DevBoard with integrated MAINS Power Switch!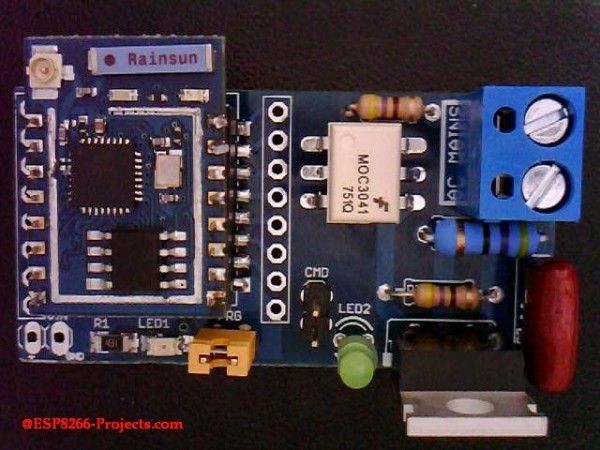 Yes, it's finally here, arrived safely from the PCB factory and you can see it below. I know a lot of you are waiting it already, but please be patient few more days. None of the already requested ones will leave the premises without a proper 24 hour test.
For any new requests please feel free to use as usual: tech at esp8266-projects.com.
If you want for your own experiments to order bare PCBs only, you can also do it directly to the
PCB House:
Theory of operation remain the same so please take a look at the previous Article about
MAINS Power Switch
for deeper explanations.
I don't know if this it's the smallest MAINS Power Switch with integrated WIFI and direct Web interface access but if is not, it's definitely closer to be at only around 25x50mm 🙂
If you want to have a separate Breadboard friendly ESP8266 adapter with integrated 3.3V Power Supply, you can cut the board in 2 independent working parts, the ESP07/12 adapter and the MAINS Triac Switch.It is designed in such way that no harm will be done by the cut to the functioning of the circuit. You can use the cut MAINS Power Switch part directly even with your ARM, PIC, Arduino, whatever MCU you like this days without any problems as long as it has a GPIO pin capable to drive the MOC Optocoupler LED.