Сollect environmental data with Tibbo Project System devices, process it with Azure Stream Analytics and visualize using Power BI.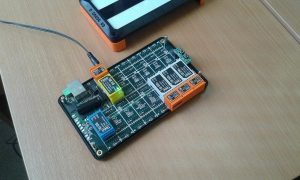 Story
Step 0: Configure and Assemble the TPS
Open LTPS Web Interface by simply entering its IP address in your browser, select the "Tibbits Layout" tab, and push the "Launch TPS Configurator…" button.
Setup Tibbits Layout as shown on the screenshot below and click File/Save
Note: TPS needs to be rebooted to take new Tibbits Layout into effect.
Assemble TPS according to the Tibbits Layout
Attention: it's strongly recommended to shut down TPS before placing/removing Tibbits.
Step 1: First application
Node.js, Git and Python 2.7 are installed on each LTPS by default, but NPM is not.
For installing, connect it to your device with SSH and do the following:
then
/opt/node-apps/ folder is proposed to be used for your Node.JS apps.
In any IDE or even a text editor create azure-app-0.js file with your application:
Upload it to /environment folder and run:
Step 2: Setting Up Microsoft Azure IoT Hub
Microsoft Azure IoT Hub is a service that allows bi-directional communications between your devices and a solution back end. To complete this part of the tutorial you'll need:
TPS device(s) prepared as shown on the Step 0
A PC with installed Node.js
Create an IoT Hub
Sign in to the Azure Portal
Choose New > Internet of Things > Azure IoT Hub
Configure your IoT Hub, then click "Create"
Wait a few minutes until your IoT Hub has been created then select All Resources > [name of your IoT hub] and click "Keys" icon.
In the Shared access policies blade select the "iothubowner" item and then copy the value of "Connection string" field.
Step 3: Registering Device Identities
There are three ways to register device identities: with a script using Azure API, with GUI App (for Windows only) and with multiplatform CLI tool. The third way seems to be the most convenient one.
Note: To use iothub-explorer you need Node.js version 4.x or later installed
Read more: Environmental Monitoring with TPS, Azure, and PowerBI