Edge devices have found their way into smart surveillance, autonomous driving, robotics, and medical imaging. With a growing requirement for making decisions on the edge and data privacy concerns, there is a requirement for intelligent devices capable of making real-time decisions.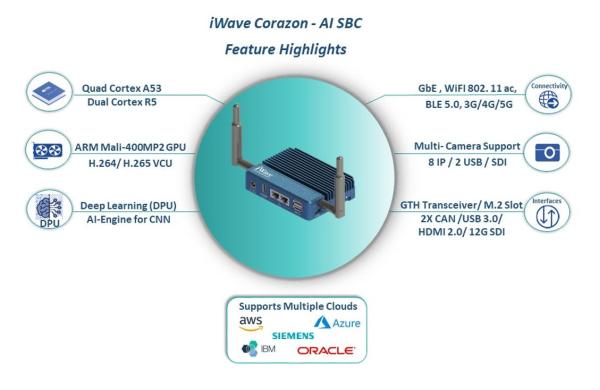 The Edge AI devices are expected to run complex neural networks and deep learning algorithms while maintaining low latency, power efficiency, and accuracy.
iWave's Corazon-AI built on Xilinx Zynq® UltraScale+™ MPSoC is designed to overcome these challenges. The rugged and innovative FPGA-based AI Inference engine with a Pico -ITX form factor (100mm x 72mm) is coupled with multiple connectivity options while supporting multiple cameras.
The EdgeAI solution provides interfaces to connect 8 IP cameras, multiple USB cameras, and SDI Camera. These options provide the ability to capture multi-angle high-resolution video frames that are proactively processed by the in-built AI Inference engine. The solution also supports a wide range of high-speed connectivity options such as Dual Gigabit Ethernet, 802.11 ac Wi-Fi, BT 5.0, 3G/4G/5G support via an M.2 expansion slot, Dual CAN and USB3.0. There is also a provision for extended storage for an MSATA / NVMe SSD via an M.2 expansion slot. The suite of connectivity help customers towards various use cases based on the on-premise architecture and requirement.
The EdgeAI Solution is built around a highly adaptive MPSoC that features a heterogeneous Arm® + FPGA architecture providing customers the advantage of using the processor cores as a regular SoC for high-level management functionalities such as system boot, peripherals management,
Read more: ENABLING AI ON THE EDGE WITH IWAVE'S CORAZON-AI