Advantech, a global leading provider of intelligent IoT systems and embedded platforms, is pleased to announce the latest addition to its ARK-1000 series: the ARK-1220, a compact DIN-Rail fanless embedded box PC for industrial and/or outdoor environments. The ARK-1220 adopts Intel Atom® E3940 QC processors with front accessible I/O ports on single bezel—targeting applications such as machine automation, intelligent factories, in-cabinet equipment integration, and IoT gateways. To enable effective device management, the ARK-1220 comes pre-loaded with Advantech's new IoT device management App: WISE-PaaS/DeviceOn. This App includes hardware security certification and parameter settings required by the relevant application domain to help simplify the initial deployment phase and subsequent management.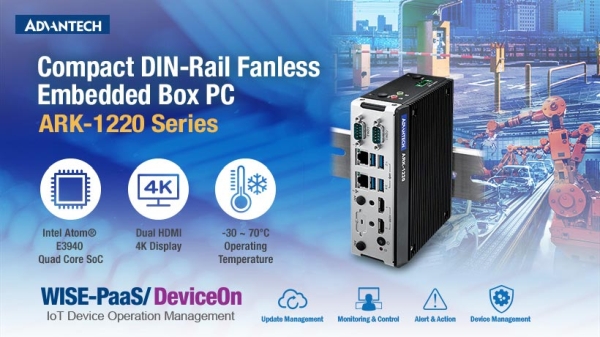 Intelligent Management and Security Support for Industrial Environments
WISE-PaaS/DeviceOn was the first to adopt the zero–touch technology connection for software and hardware integration, allowing users to monitor real-time health status and send software and firmware updates over-the-air (OTA) on-site. For system security, the ARK-1220 utilizes the Trusted Platform Module (TPM) 2.0 function by request and supports BitLocker under Windows 10 IoT. Moreover, McAfee and Acronis are integrated into WISE-PaaS/DeviceOn for anti-virus protection and invaluable data recovery and backup. Our hardware and software solutions help users simplify equipment management via an easy, efficient, and secure systematic method that fits different industrial and/or outdoor environments.
Ruggedized and Compact DIN-Rail Fanless Design
The ARK-1220 is powered by Intel Atom® E3940 Quad Core SoC, with up to 1.8 GHz with turbo burst on. The dual channel memory sockets support a maximum of up to 8GB DDR3L 1866 MHz SO-DIMM. Designed for rugged environments, the ARK-1220 supports a -30 ~70°C operating temperature range with 0.7 m/s air flow that is ideal for working outdoors. Its wide ranging power input of 12V – 28V DC-in is suitable for use in environments with fluctuating or unstable power supply. The ARK-1220 supports an array of functional I/O ports, including 4x USB 3.0, 2x LAN, and 2x COM ports placed on front panel. Its compact dimensions are appropriate for applications installed in limited space but requiring I/O flexibility and enhanced performance.
Read more: COMPACT DIN-RAIL FANLESS EMBEDDED BOX PC FOR INTELLIGENT MANUFACTURING AND OUTDOOR APPLICATIONS