Eyes on the prize, Violet. Eyes on the prize!
Get ready for a candy-grabbing face-off with your family and friends with this classic arcade game – the candy claw machine! But this time, it's going to be a bit different – first, it's going to be at your home, and second, you're going to make it yourself! Oh yeah! Here's bringing to you the evergreen Claw Machine with a touch of DIY! You can now easily make your own DIY candy claw machine and challenge your mates to a candy battle. Whoever gets the most candies wins the challenge. So, what are you waiting for? Jump right in before all the candies are gone!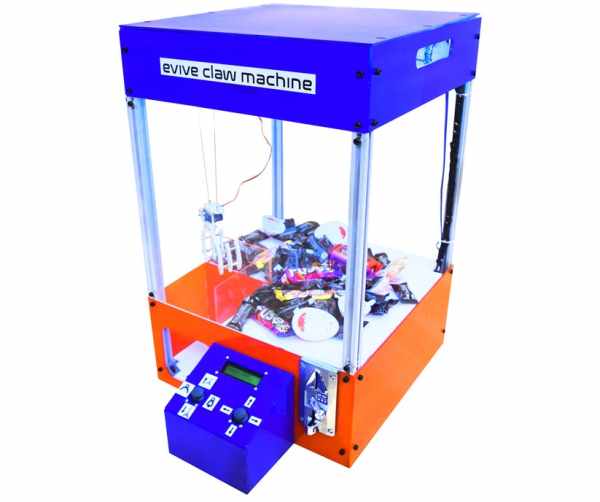 Step 1: Things You'll Need:
This was a brief overview of the candy claw machine. Now let us see what all components will you need to build one for yourself:
Stepper Motor – 2
Stepper Motor Driver A4988 – 2
Jumper Cable
Joystick – 2
16 x 2 LCD Display -1
Breadboard – 1
12V 5A Power Supply Unit -1
Coin Detection Machine -1
Aluminum T Slot Rod- 20mm x 20mm – 9 meter
T Slot 2020 Aluminum Profile L-Shape Interior Inside Corner Connector Joint Bracket – 24
4mm Allen Bolts of 8mm length – 100
Acrylic Sheet Clear 3mm 1200mm x 900mm – 1
Acrylic Sheet Clear 5mm 400mm x 300mm – 1
BO Motor 6V – 1
Micro Servo Motor – 1
8mm to 5mm Flexible Coupler – 2
Lead Screw Rod 8mm – 2
8mm Rod – 4
8mm Inner Diameter Linear Bearing – 8
8mm End Shaft Support – 8
Feviquick
Nut and Bolts
Step 2: Overview
The Claw Machine that we are about to make or most of the claw machines have very simple rules.
As soon as we insert the coin in the machine, our time starts.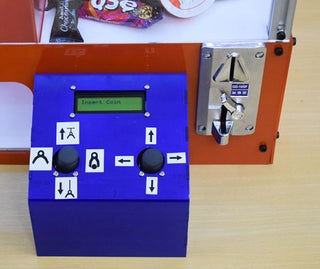 It gives us some predetermined time like 2 or 3 minutes.
And in that stipulated time, we try to grab as many candies with the help of gripper.
We move the gripper and open and close the gripper using the joysticks. We have used a servo for gripper open and close mechanism and a motor, thread and a pulley to move the gripper up and down.
For the XY movement of the gripper, we have used the lead screw mechanism which is driven by stepper motors. To move the gripper in XY direction, the user uses the other joystick similar to gamepad controllers. There are also limit switches for X and Y directions to prevent any damage.
In order to decorate it more, we have added RGB lights, which also tells us about the time:
Source: Candy Claw Machine – Arduino Based Arcade Game