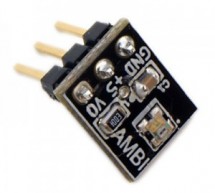 Product Description This is a light sensor that I've been waiting for, for a long time. If you use photo cells or phototransistors, or other light sensors such as the useful TAOS TSL series, you know that every one leaves something to be desired. In robotics for example, sensors either tend to saturate in dark corners under tables, or else in bright sunlight when they go for walks outside, rendering the rob ...
Read more

›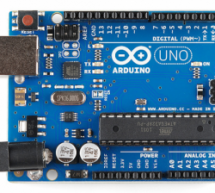 Introduction This tutorial will walk you through downloading, installing, and testing the Arduino software (also known as the Arduino IDE - short for Integrated Development Environment). Before you jump to the page for your operating system, make sure you've got all the right equipment. What you will need: A computer (Windows, Mac, or Linux) An Arduino-compatible microcontroller (anything from this guide sh ...
Read more

›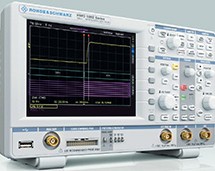 Professionals, school laboratories and amateurs can now gain this new, extra affordable digital MSO oscilloscope in a limited offer.   Probably you may have noticed, that company Hameg became a member of Rohde&Schwarz group and new oscilloscopes already carry only an R&S logo. However the name of series HMO remains, which represents for several years products with an excellent price/ performance rat ...
Read more

›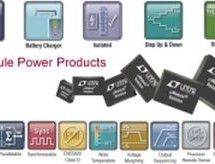 Who is the winner of umodule demoboard from Linear technology? In addition to getting to know the winner, you can also watch the video record from webinar... Linear Technology's family of DC/DC Module products simplifies your analog design. By integrating the DC/DC controller, power switches, magnetic, and a modest amount of capacitance, uModules power products will save precious space on the PCB and reduce ...
Read more

›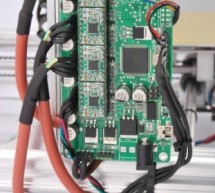 When we first released our 3D printer, we tried to use some parts that were already available and tested, in full respect of the open source philosophy. In particular, we decided to use the electronic card Sanguinololu. The "open" firmware we chose, the Marlin firmware by Erik van der Zalm, solved the biggest part of the computer interface issues. The Sanguinololu was great, but being innovators by vocation ...
Read more

›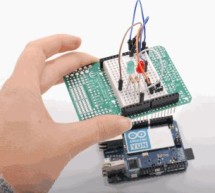 This post introduces in details one of the latest boards from the Arduino Team: a board that we still didn't cover that much on the blog. YÚN's DNA is that of the Arduino family lately open to new requirements and perspectives: Embedded Linux, Ethernet and WiFi with a board that is easy to use and just ready out of the box. Once we put our hands on the Arduino Yun months ago, we could not resist the temptat ...
Read more

›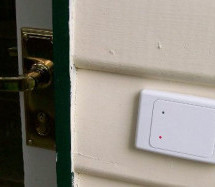 RFID technology is used for a wide variety of applications including access control, package identification, warehouse stock control, point of sale scanning, retail anti-theft systems, toll-road passes, surgical instrument inventory, and even identifying individual sheets of paper placed on a desk. RFID tags are embedded in name badges, shipping labels, library books, product tags and boxes, installed in ai ...
Read more

›
I'm a graphic design student and built this project for a beginning electronics class. I'm interested in connecting the signals generated by one's body to the act of visual generation. This piece takes the galvanic skin response value of the user and uses it to fuel the creation of a visual on screen. Galvanic skin response is thought to be correlated to a person's stress level and is used in lie detectors. ...
Read more

›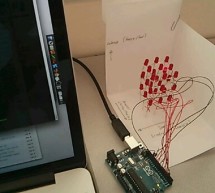 The Arduino source. The python source. Schematic diagram of the Arduino to LED cube connections. LED cube controlled by an Arduino board, that can receive commands over serial. There are only 13 available pins for 27 LEDs, so I had to play some tricks to get be able to access each individual LED. The program then pulses through each layer at 30Hz, using persistence of vision to display the entire cube lit u ...
Read more

›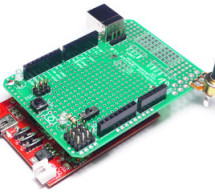 ProtoShield Remixed v1.0 description: Build your own Arduino shield using the compact and flexible Proto Shield kit. Solder together a limitless range of circuits and reuse it in all your Arduino projects. A standard 0.1" prototyping grid accepts commonly used through-hole parts and chips. You could also find a range of basic components are included to help you get started with your custom shield. ProtoShie ...
Read more

›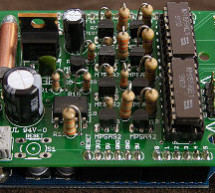 ArduiNIX Shield description: The ArduiNIX shield is a user programmable platform for driving multiplexed Nixie tube or other high voltage displays. CC 2.5 Attrib-Share Alike ArduiNIX Shield specification: ArduiNIX Shield pinout: For more detail: ArduiNIX Shield ...
Read more

›
Talk Shield description: Japanese speech synthesizer LSI: Micro Talk ATS001B (Act Brain) Talk Shield specification: Talk Shield pinout: For more detail: Talk Shield ...
Read more

›