A beautifully designed robotic bartender capable of producing perfect drinks every time, with technology that brings people together.
Introducing Barobot
Barobot is an open source device that pours cocktails by mixing alcohol, soft drinks and sodas. It holds up to 12 bottles and can pour a drink with millitary accuracy!
Barobot features over 1000 cocktail recipes or gives you the option to create your own on the fly. All can be easily accessed via our custom made application on your touchscreen or the user friendly interface on your Smartphone.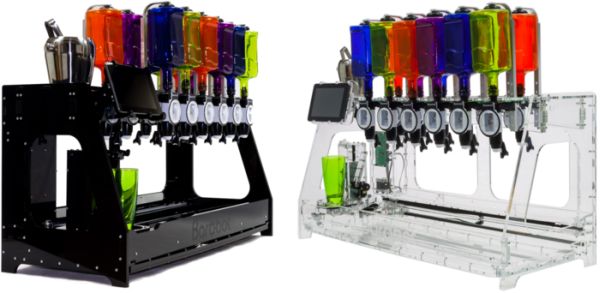 Barobots frame – made of either deep black or transparent acrylic glass, comes in either a self assembly kit or an assembled 'plug and pour' version. The flat-pack self assembly kit requires no advanced skills or tools (it's great fun to put together by itself!). Barobot is also illuminated with over 100 individually controlled LEDs that might be set to a number of light-themes or even synchronised to music!
LIKE us on Facebook. FOLLOW us on Twitter or send us mail at [email protected]
Barobot in the media
What to expect from Barobot
Mixing drinks at home parties might prove a challenge if you are not a trained bartender with professional equipment. It requires remembering many recipes and accurate measures which could be disastrous if you forget, more importantly, it distracts you from interacting with your guests. Barobot takes care of your bar tending needs allowing you to focus on your friends.
What's more, with Barobots cool, stylish looks and smooth moves during cocktail creation we guarantee it will bring additional 'WOW' factor to your party. Just put the bottles in, choose a drink and enjoy. During testing, Barobot has been host to several parties, guests all agreed that it added to the atmosphere which created unique social interactions. Barobot was indeed the star of the show!
Pouring your favourite drink simply looks awesome, and tastes great. We guarantee it will revolutionise your parties making them unforgettable!
Open source and more
Our project would never exist if not for the open source community. Therefore Barobot is a completely open-source project. This means that we have published all the hardware designs and software code under GPL license.
More than that, a full list of components and assembly manual will help you build the machine from scratch!
We are makers and encourage you to make your own versions of a bartender robot basing on what we've achieved so far. We hope to create a community of makers and hackers like us who will tinker and add even more cool features to their machines.
Hardware
Barobot's frame made of laser cut acrylic glass is a stable base for even the heaviest bottles. It comes in either Monolith Black or Pure Crystal version. The Monolith Blacks smooth, black, lustrous frame looks great and is a strong statement in any interior. On the other hand the Pure Crystals translucent design shows all its electronics, bearings and motors, so if you love watching how everything works, the Pure Crystal version is best for you.
The mobile platform on which the glass moves effortlessly between the individual bottles is the heart of Barobot. Fluid movements of the engine and servomotors transport the glass under the appropriate dispenser, where a nozzle doses accurate amounts of liquid. Because liquors pour into glass from some height they mix well together without the need for additional shaking. We have our heads full of ideas for further improvement – we are thinking of a device that allows the making of multilayer drinks. How we succeed, depends also on your support!
"Nothing can spill" was our principle whilst creating Barobot. That's why the mobile platform has in-built highly sensitive weight and magnetic field sensors. Barobot won't pour anything if it doesn't sense the weight of a glass in the correct place. We know, however, that at a party it's impossible to control everything (and everyone), so if somebody accidentally knocks over the glass and spills the liquid, there are always two removable trays that will protect your furniture and floor from spillage accidents.
For more detail: Barobot: A Cocktail Mixing Robot