Avnet Releases UltraZed-EV Starter Kit
Avnet a leading global technology solutions provider, today released the UltraZed-EV™ Starter Kit, providing designers with the core tools necessary to shape the future of advanced embedded vision design and turn their ideas into reality. By bundling the new UltraZed-EV System on Module (SOM) and Carrier Card, Avnet has created a complete platform for prototyping and evaluating embedded video processing systems.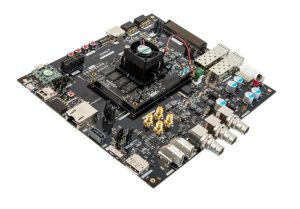 The UltraZed-EV Starter Kit is based on the Xilinx® Zynq® UltraScale+™ MPSoC EV device family and is the latest addition to Avnet's Zedboard portfolio of modules and peripherals supporting customer product development leveraging SoC technology from Xilinx. The full Zedboard family includes the MicroZed, PicoZed, UltraZed and MiniZed and for applications including embedded vision, IoT, IIoT, voice processing and software defined radio.
"Providing lower-power, higher-efficiency machines with the ability to see, sense and immediately respond to inputs creates unique opportunities for system differentiation," said Dan Rozwood, UltraZed project engineer for Avnet. "By leveraging the scalability and flexibility offered by the Zynq UltraScale+ MPSoC portfolio, Avnet's new UltraZed-EV Starter Kit allows designers to focus on their product's feature set rather than high-speed, digital design infrastructure."
"Avnet's UltraZed-EV Starter Kit and accompanying SOMs give embedded vision and multimedia application developers access to the Zynq UltraScale+ EV device family to offer power-efficient solutions to many of today's video-centric edge device designs, while future-proofing for the evolving standards," said Sumit Shah, director of product marketing at Xilinx. "Complemented by full software development support, this platform is provided with Embedded Linux-based reference designs, which in conjunction with Xilinx's extensive video IP subsystem portfolio, enable customers to develop an end-to-end platform to immediately start application development."
Technical Highlights:
The UltraZed-EV SOM
High-performance, full-featured SOM with onboard dual system memory, high-speed transceivers, Ethernet, USB, and configuration memory
Easy access to 152 user I/O pins, 26 processing system (PS) MIO pins, four high-speed PS-GTR transceivers along with four GTR reference clock inputs and 16 programmable logic (PL) high-speed GTH transceivers, and 16 programmable logic (PL) high-speed GTH transceivers
Zynq UltraScale+ MPSoC EV with integrated H.264/H.265 video codec unit, capable of simultaneous encode and decode at up to 4k60
Read more: Avnet Releases UltraZed-EV Starter Kit

Project Ratings:
Related posts