Those Gadget Masters who have school age children may be interested in this one: the Arduino Science Kit Physics Lab.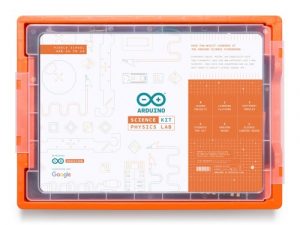 The package been designed to support "scientific exploration" for school kids between 11 and 14.
Experiment with forces, motion, magnetism, and conductivity. Students will make their own hypothesis like real scientists, then check their assumptions, and log data thanks to Google's Science Journal — a digital notebook for conducting and documenting science experiments in real-time using the smart capabilities of mobile devices. No coding experience required! Enjoy this new series of plug & play projects.
Recommended for 2 students to work together, the Arduino Science Kit includes materials to run 9 exciting physics experiments based on the following subject areas and topics: Electromagnetism and Thermodynamics, and Kinetics and Kinematics.
Interestingly, it was developed in partnership with Google and there is an Android leaning (Android version 5+) – it is described as being fully compatible with Google Science Journal, which is available on Android but it is not currently compatible with Google Science Journal App for iOS.
The Arduino team writes:
Everything comes in a handy storage box for future use, with all the necessary parts to assemble and conduct experiments. The kit features a range of sensors to measure light, temperature, motion, magnetic fields, and most importantly, full access to online course content for teachers and students alike.
You'll just need to provide a few essential classroom supplies (pencils, rulers, etc.) and a LiPo battery or a Power bank. If you own a Chromebook you'll get a free month on Create for Chrome OS.
In terms of school curricula, the idea is that students will be setting up simple practical enquiries with comparative tests, making systematic observations and taking accurate measurements using equipment such as thermometers and data loggers, and classifying and presenting data in a variety of ways….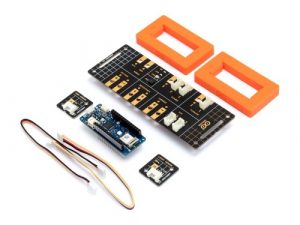 Costing €169.99 (around £145), it's not cheap, so what will you get for your money?
1x Arduino Science Carrier Board

2x Silicone standoffs

1x Flat micro USB cable

1x Arduino Light Sensor Module with Grove Connector

1x Arduino Temperature Sensor Module with Grove Connector

2x Grove Cable 20cm – universal 4-pin connector

2x Double-ended cable: crocodile clip/banana plug (50 cm)

2x Double-ended cable crocodile clip/banana plug (20 cm)

1x Magnet

1x Hook-and-loop Velcro™ strap

1x Hook-and-loop Velcro™ dot

2x PCB sticks

1x PCB encoder

1x Mini slinky metal spring

8x M3 screws

8x M3 bolts

4x Rubber bands

4x Small silicone gaskets

2x Big silicone gaskets
Note that it's only available for preorder at the moment – the estimated shipping date is the "end of April". Read more information.
Source: Arduino Science Kit targets 11- to 14-year-olds