Many people have created their own 3D printed version of the famous Scouter from the Dragon Ball franchise, but maker Marcin Poblocki wanted to go one step further and add a functioning screen to his prop.
Before he could get to that, however, he needed to model the Scouter itself, a job he did in Fusion 360 over the course of 20 hours.
Printing took eight hours and, with the plastic in hand, the electronic side of this project could start. Poblocki tells us that he'd been experimenting with holograms and projecting images onto pieces of Perspex, so he decided to run with that for this Scouter.
Hidden inside of the main body of the print is an Arduino Nano hooked up to a small 0.96'' 128 X 64 screen with a battery to keep everything running.
The image from this screen is projected onto a mirror and then through a 25mm lens taken from a cheap VR headset. From here it is finally displayed on the 3mm clear Perspex that sits in front of your eye.
While it's not the most vibrant image, it works incredibly well at displaying a power level while still being see through.
Not content with displaying a static power number, this Scouter has an extra trick. There's a VL53L0X time-of-flight distance sensor here. The Scouter can be programmed to display the distance measurement this sensor picks up, so that the power level can change dynamically and add a bit of extra flair for those watching it at a Con.
Wiring up these optics and soldering the circuits added an extra two hours to the project, and a simple paint job was needed to round everything off.
With all the components this Scouter weighs in at 300 grams. A headband attached to the print (which should be hidden away, especially if you're wearing a large blonde wig) keeps the print attached to your head for, what we've been told, is a surprisingly comfortable fit.
Those looking to make their own can find everything they need on Thingiverse. The free files there contain not only the ones needed to print the Scouter itself, but also the code for both display types, the schematics and a few renders to show how everything should fit together.
This isn't the first time we've featured Poblocki's work and we doubt it will be the last. We've looked at his Guardian of Forever and Bajoran Orb projects in the past, and he consistently pumps out creations of high quality.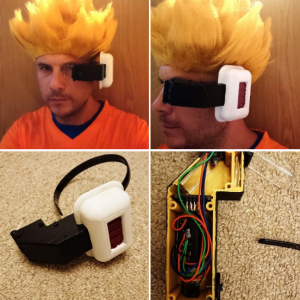 These projects are usually from Star Trek but, as you can see, he does branch out into other media.