Jubilee Hills: Alzheimer's disease can be tough on caregivers, especially when difficult behaviours like aggression or wandering occur. Alzheimer's is the most common cause of dementia, a general term for memory loss and other cognitive abilities serious enough to interfere with daily life.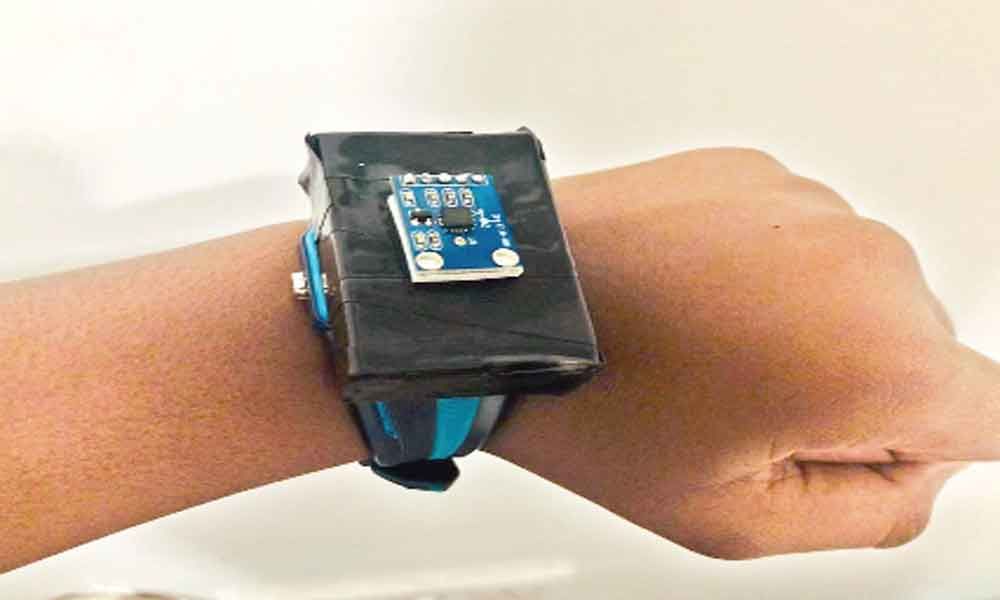 Caregivers of Alzheimer's patients may find their loved ones acting in unfamiliar, even disturbing or violent ways. Caregivers find it difficult to keep a constant watch on them and sometimes miss their health issue. Addressing this issue, a city school kid innovated a smart wrist band which signals to the caregiver about any activity or health update through an application connected to the smart wrist band.
Hemesh Chadalavada, an eighth grader from Jubilee Hills Public School and residing in Kukatpally, innovated the smart band with less than Rs 700 and it took him one month to make the prototype model. "My grandmother is suffering from Alzheimer's and she would wake up at unusual times without the notice of the caretaker.
I wanted to make something which will notify the caretaker whenever my grandmother is awake. Apart from detecting the status of the patient, the band also shows body temperature, pulse rate and transfers the data to the mobile application connected to it," said Hemesh.
"I developed the application using app inventor and used Arduino micro controller board to make the device. I watched Youtube videos on how to program the application and how to make it. The prototype model is ready, but it is very big to fit on anyone's wrist. I am waiting on a small powering battery which will help me power the device and shrink it into a size of a wrist band, hopefully by next week," added Hemesh.
The process of patenting the device is going on, according to Hemesh. He said he would publish the application and band once the device is patented. The application is currently operational on only Android devices but launching ioS application is in process and will be done in next few days.
"There is a Bluetooth module in the wrist band which connects the mobile application and has a range of 15 to 50 meters. In future if I want to sell my band I want it to keep the prices anywhere around Rs 1,000 to Rs 1,500 to keep it affordable for every patient. It can be useful for Alzheimer's patients, disabled and elderly people," added Hemesh.
Recently Hemesh participated in Macmillan Budding Scientist Award Contest at IIT-Delhi and was selected amidst top 10 students out of 700 entries all over India. He says he is inspired by Elon Musk and wants to become an entrepreneur when he grows up.
Source: Alzheimer's: Hope on hand for caregivers