Researchers at UCLA have developed an improved method to detect the presence of DNA biomarkers of disease that is compatible with use outside of a hospital or lab setting. The new technique leverages the sensors and optics of cellphones to read light produced by a new detector dye mixture that reports the presence of DNA molecules with a signal that is more than 10-times brighter.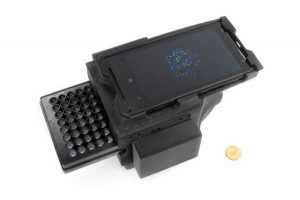 Nucleic acids, such as DNA or RNA, are used in tests for infectious diseases, genetic disorders, cancer mutations that can be targeted by specific drugs, and fetal abnormality tests. The samples used in standard diagnostic tests typically contain only tiny amounts of a disease's related nucleic acids. To assist optical detection, clinicians amplify the number of nucleic acids making them easier to find with the fluorescent dyes.
Both the amplification and the optical detection steps have in the past required costly and bulky equipment, largely limiting their use to laboratories.
In a study published online in the journal ACS Nano, researchers from three UCLA entities — the Henry Samueli School of Engineering and Applied Science, the California NanoSystems Institute, and the David Geffen School of Medicine — showed how to take detection out of the lab and for a fraction of the cost.
The collaborative team of researchers included lead author Janay Kong, a UCLA Ph.D. student in bioengineering; Qingshan Wei, a post-doctoral researcher in electrical engineering; Aydogan Ozcan, Chancellor's Professor of Electrical Engineering and Bioengineering; Dino Di Carlo, professor of bioengineering and mechanical and aerospace engineering; and Omai Garner, assistant professor of pathology and medicine at the David Geffen School of Medicine at UCLA.
The UCLA researchers focused on the challenges with low-cost optical detection. Small changes in light emitted from molecules that associate with DNA, called intercalator dyes, are used to identify DNA amplification, but these dyes are unstable and their changes are too dim for standard cellphone camera sensors.
Read more: Affordable DNA Detection Using A Smartphone