PORTLAND, Ore. — A new world record has been set in wireless data transmission rates — 40 gigabits per second, which is over 40-times faster than the ceiling for Long Term Evolution (LTE) Advanced of 1 Gbit/s. The breakthrough was announced at the Compound Semiconductor Integrated Circuits Symposium conference in San Diego on Oct. 22, 2014.
The new world's record is in the 141.5 to 148 GHz band, compared with LTE's 698 MHz to 1.4 GHz bands (depending on your location). The first application for the new wireless super-speed will be for back haul between cell towers, but many other applications are possible besides mobile phones. Ericsson plans on transmitting signals to and from base stations and cellular towers.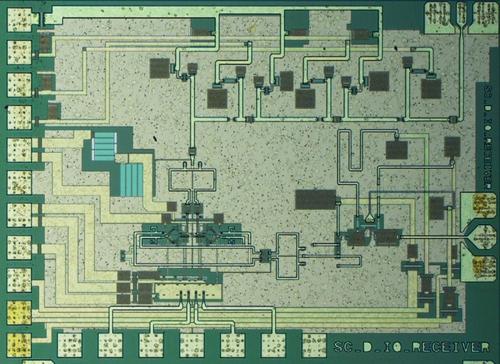 A 140 GHz transmitter chip, containing an I-Q modulator, a 3-stage amplifier, and an x3 frequency multiplier for the local oscillator measures just 1.6 x 1 square millimeters.
(Source: Sona Carpenter)
Herbert Zirath, the co-inventor, professor at Chalmers University of Technology in Sweden and part-time employee at Ericsson Research, told EE Times:
The band from 141.5 to 148 GHz is assigned for fixed and mobile communication by the FCC. Though at this moment we are concentrating on making the chipset work well, we will make real wireless transmission demonstrations over an air-interface next year. Typical applications in the short term are mobile backhaul, high data-rate links over distances of up to a few kilometers, wireless camera HDTV transmission at big arenas with ultra-low latency, and so on. Possibly, it can be used for WLAN in the future as well — we will work toward such demonstrations…
Backhaul and similar cell tower-to-tower applications are served today by transceivers in the 141.5 to 148 GHz band, but at half the speed of Zirth's invention, which he made at Chalmers in collaboration with researchers Sona Carpenter and Mingquan Bao, along with Simon He, who performed the data-transmission measurements. The chip size is 1.6 x 1.2 square millimeters.
In order to double the speed of backhaul and similar wireless communications gear, the researchers had to resort to exotic indium phosphide transceivers, which is one reason the inventors gave for why they succeeded when all other attempts had failed so far.
For more detail: World's Wireless Record Breaks 40 Gbit/s