UV exposure and PCB wytrawiarka
Quite by accident I came across a long time ago on video in YouTube, which focuses on domestic production of PCBs. Personally, I am convinced that it is better to perform the PCB in a professional company – you know: aesthetics, double-sided layout, descriptions, solder mask, tin holes etc. But for small, home projects, not specifically require it. Do not forget that it comes to the cost of a few dozen gold and długaśny waiting time. So I decided to make myself the right tools to perform such fototransferu tiling method, ie UV platesetter and wytrawiarki PCBs.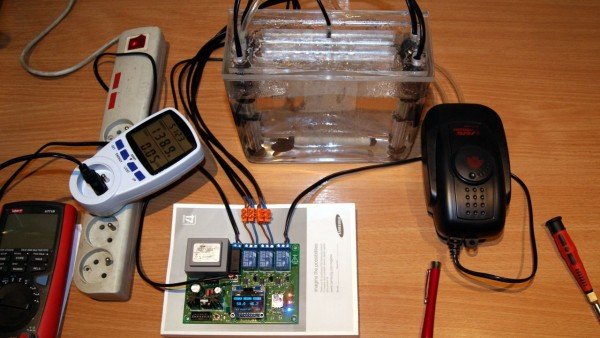 People tracking me on Google+ or Facebook on a regular basis could observe the progress of project development, so this entry will treat about how the project was created and its final outline.
UV exposure
The head of the UV LED 30W
OLED display 1.3 "
Control via the illuminated encoder RG
UV LED Cooling Peltier TEC1-12710
An independent temperature measurement of UV LEDs and heat sink
Active cooling heat sink fan
Dew point with a sensor SHT11 (air humidity, ambient temperature)
LED Driver LDU4860S1000 with an efficiency of 95% and PWM control
UV LED power adjustment range 0 ÷ 100%
Monitoring operating parameters using UV LEDs INA226 (voltage, current and power)
Step-Up Converter 36V
Efficient, low-profile power supply Mean Well RPS-320-12 power of 320W
The driver is based on ATmega328P / Arduino IDE
Wytrawiarka
Aquarium of working age, with a capacity of 1.6 liters
OLED display 1.3 "
Control via the illuminated RGB encoder
The ability to digest the two PCB 120mm / 120mm
The total power output of 120W (4x30W)
Two-channel heating system (for heating and maintaining the temperature)
Continuous temperature measurement solution
The aeration system: mixing, cooling
The driver is based on ATmega328P / Arduino IDE
For more detail: UV exposure and PCB wytrawiarka
Project Ratings:
Related posts