Towards a tiny pick-and-place vacuum head
I try to have a few different projects on the go at any time — a big, long term project (like the Arducorder), a shorter-term fun project (like the Open Source CT scanner), and a bunch of smaller weekend or few-weekend project (like the open mini spectrometer). Having a few projects of varying time scales allows you to switch projects when you're burned out on one, and make more headway on creative pursuits when you're at the mercy of inspiration. A project I've had on the backburner for some time is building a small, open source pick-and-place machine. In the past year or so there's been a lot of interest in this space, and different groups (e.g. openpnp, firepick) have been working on designs to help folks assemble boards quickly and inexpensively. I thought I'd take a moment to show my progress on a pick-and-place vacuum head, given that I haven't found a great deal of consolidated information on the topic.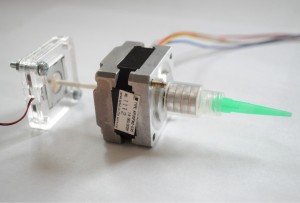 I confess that I've been thinking /very/ big and intractable on my pick-and-place project, so much so that it's been never ending. There's been a half-built machine in my workshop for several years that slowly sees progress every few months, largely because the project is too big — I have been trying, as a hobby, to make a factory in a single 50cm cubed machine. I designed the machine with an automatic tool changer so that it could pick up different heads, the idea being that you could pick up a mill head to mill out a circuit board, pick up a solder paste dispenser to apply paste, then pick up a pick-and-place head to populate the parts, and finally pick up a 3D printing extruder to create an enclosure for the board, all assembled by the same machine. This is of course fantastically challenging, and likely way too large a project for a single person, and I've only progressed as far as designing and building the tool changing head and x/y/z cartesian robot, but haven't returned to the project to build any of the tool heads, like a vacuum head for picking-and-placing components and populating circuit boards.
For MOre Details: Towards a tiny pick-and-place vacuum head
This Post / Project can also be found using search terms:
arduino vaccum pick up
vacuum micro head pick
Project Ratings:
Related posts
Leave a Comment