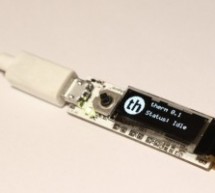 Therm is a very small PID controller with an OLED display, thermocouple interface, and USB port. It can switch an external solid-state relay for driving large loads, or a transistor for driving small loads. When attached to a computer, it enumerates as a USB serial port for easy control and logging of data. The design is based around a STM32F0 microcontroller and the MAX31855 thermocouple-to-digital IC (not ...
Read more

›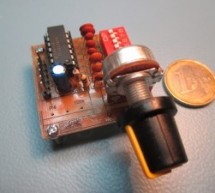 Function generator is a rely useful tool in the lab, a simple version can be build at home, there's a lot of examples on the Internet, some are much more complex and powerful, but this one is intended to be really simple and cheap. It can be also built-in in some bigger projects that also requires a generator. The generator can output (only) square signal with adjusted frequency and pulse width. The amplitu ...
Read more

›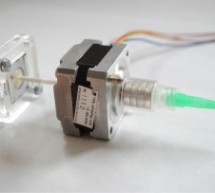 I try to have a few different projects on the go at any time — a big, long term project (like the Arducorder), a shorter-term fun project (like the Open Source CT scanner), and a bunch of smaller weekend or few-weekend project (like the open mini spectrometer). Having a few projects of varying time scales allows you to switch projects when you're burned out on one, and make more headway on creative pursuits ...
Read more

›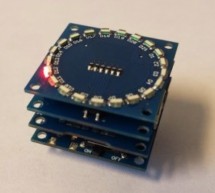 In this Instructable, we will be building a compass using the TinyShield Compass as well as the Circle Edge Led shield. Before starting, the proper drivers must be installed to detect the COM ports. These drivers must be installed before downloading any codes from the codebender plugin. The drivers needed can be found here. Lucky for us there are no downloads for this project, we can simply use the codebend ...
Read more

›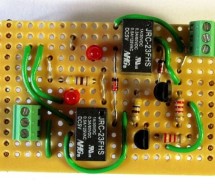 In this Arduino project, you will build a small relay shield from stripboard. The shield can have one or two relays fitted to it. Connect the Arduino and relay shield to your PC via a USB cable. Download the PC software and use it to switch anything on and off that is attached to the relays. The shield is based on the Tiny Stripboard Shield for Arduino project. This video shows the Arduino shield project an ...
Read more

›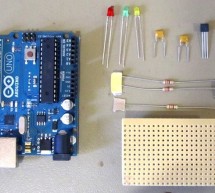 In this Arduino project, you will build a small shield that measures temperature and will switch on one of three LEDs depending on the current temperature measurement. Each LED can be set to switch on in a predefined temperature range. The PC software for the project is written in the Processing language and displays the current temperature, temperature history on a graph and the status of the three LEDs on ...
Read more

›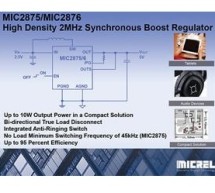 Offered with fixed output voltages of 4.75 V, 5.0 V, 5.25 V and 5.5 V or an adjustable output voltage, the MIC2875 and MIC2876 2-MHz boost regulators from Micrel are capable of supplying up to 2 A of output current, while occupying just 122 mm2 of board space. These synchronous regulators also achieve efficiency of up to 95% and are well-suited for operation from a single-cell lithium battery and providing ...
Read more

›