Built around the powerful Arm Cortex-M4 CPU with inbuilt DSP for optimized audio processing, it allows developers to quickly and easily integrate data-over-sound technology into embedded scenarios. Freely-available reference designs and open-source sample applications make it easy to build a data-over-sound prototype that can be seamlessly scaled to production.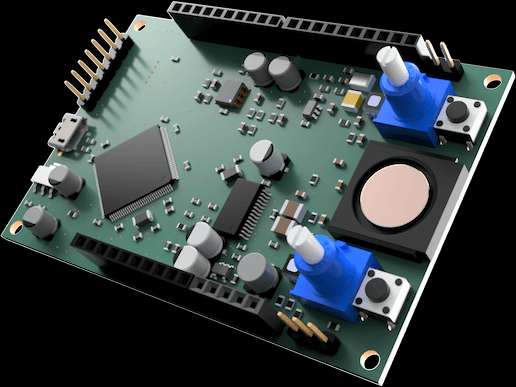 We've made it as quick and simple as possible to integrate with the Chirp Arm SDK, with drop-in examples to get you up and running in minutes — no need to wrestle with handling audio I/O manually.
Specifications
Arm Cortex-M4 CPU running at 168MHz, with 256KB RAM and 2MB Flash
High-quality 192kHz audio DAC (Cirrus Logic CS4271) supports data-over-audio transmission in the audible and near-ultrasonic ranges, with a transmission range up to 3m
Integrated MEMs microphone and 1.4W dynamic loudspeaker provide integrated support for sending and receiving Chirp signals
Supports 3.5mm line-level inputs and outputs to connect to external audio peripherals (with optional Molex adapter)
User-assignable RGB LEDs, potentiometers and push buttons
Arduino-compatible GPIO pinout, with 21 GPIO pins, 8-channel 12-bit ADC, 2-channel 12-bit DAC, SPI, CAN, I2C, UART, and several multi-function hardware timers
Powered via micro-USB and programmed via standard SWD interface
Integrates seamlessly with the Chirp Arm SDK
Can also be used as a general-purpose development board for audio prototyping
The company says the Chirp Explorer Board will be shipping by the end of this year; however there's no definitive set date or a perspective price-point. You can sign up for updates and pre-release notifications here for further information.