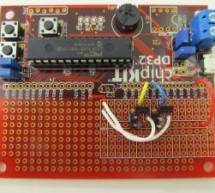 Hey! This I'ble is now out of date! I made an updated version which you can read here! Hope you find it fun and useful! ~~~~~ Thus far, I've shown you how to create wheels out of household items, severalmotorizedchassis out of cardboard, and a couple of simple and effective light sensors. Now, one of the last major pieces is about to fall into place. Almost every robot needs to power a motor of some sort or ...
Read more

›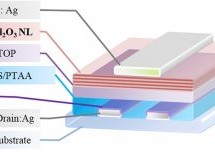 Amorphous silicon-based Thin-film transistors (TFTs) are the foundation of many modern-day technologies, such as smartphones and flat-panel TVs. Still, it comes with a few drawbacks like performance limitations due to limited carrier mobility. Provoking the researchers in search of something better. As a result, Organic thin-film transistors (OTFTs) were developed. OTFTs have solved the problem with carrier ...
Read more

›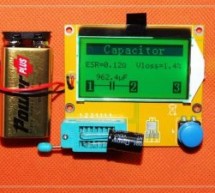 When I started to deal with Chinese electronics suppliers from websites like Alibaba, Aliexpressand Taobao, I discovered that there are huge amount of undiscovered tools from the Chinese market. They are not easily discovered, maybe due to the Chinese language barrier, especially when we deal with a Chinese website like Taobao or maybe because most of us are used to deal with known electronics distributors ...
Read more

›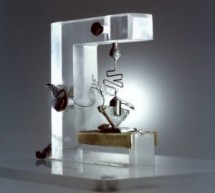 Its been 70 years since the fundamental building block of electronics was created, and it has been getting smaller, and better since then. The invention that won the Nobel prize for John Bardeen, Walter Brattain, and William Shockley in 1956 revolutionized electronics and made it into the IEEE milestone list. Before 1947 computers used vacuum tubes, which could be several inches long, consumed massive amoun ...
Read more

›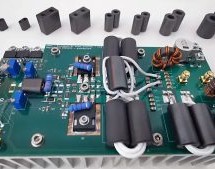 Typically, amateur radio operators use the minimum power needed to accomplish a contact. That's just part of being a good spectrum citizen, and well-earned bragging rights go to those who make transcontinental contacts on the power coming from a coin cell. But sometimes quantity has a quality all its own, and getting more power into the ether is what the contact requires. That's where builds such as this we ...
Read more

›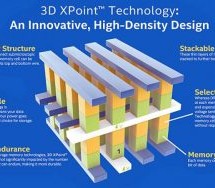 In July 2015, Intel and Micron Technology announced a new technology for memory and storage solutions called "3D XPoint™ technology". It is a new category of nonvolatile memory that addresses the need for high-performance, high-endurance, and high-capacity memory and storage. Now Intel had produced its Optane™ technology that provides an unparalleled combination of high throughput, low latency, high quality ...
Read more

›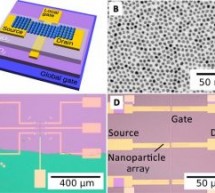 A research group at the University of Hamburg has created a unique coulomb transistor that operates on the principle of the voltage control of the electron band gap in metallic quantum-dot nanoparticles. This Single-electron transistor represents an approach to develop less power-consuming microelectronic devices. It will be possible if industry-compatible fabrication and room temperature operation are achi ...
Read more

›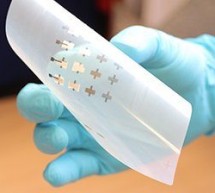 Researchers from AMBER (Advanced Materials and BioEngineering Research) and Trinity College (Dublin), together with the TU Delft have succeeded in producing printed transistors, which are made solely from two-dimensional nano materials. These materials have characteristics with much promise and, importantly, can also be produced very cheaply. Possible applications for this procedure are food packaging with ...
Read more

›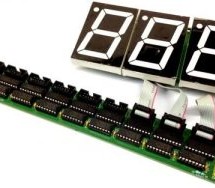 72 channels Serial (SPI) to parallel driver board has been designed for various applications. This project can be used as multi Solenoid driver, large size 7 segment display driver, bar graph driver, and LED driver. The project works with 5V logic levels. Output load supply 12V-48V DC and each output can drive 500mA load. I have used 3 digits 2.3Inch 7 segment displays as an example, this board can handle u ...
Read more

›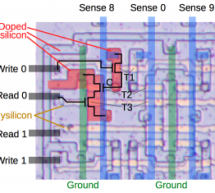 The revolutionary Intel 8008 microprocessor is 45 years old today (March 13, 2017), so I figured it's time for a blog post on reverse-engineering its internal circuits. One of the interesting things about old computers is how they implemented things in unexpected ways, and the 8008 is no exception. Compared to modern architectures, one unusual feature of the 8008 is it had an on-chip stack for subroutine ca ...
Read more

›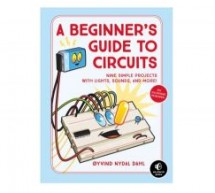 First steps in circuit design for the budding electrical engineer. San Francisco, CA (October 25, 2018)—A Beginner's Guide to Circuits ($17.95, 80 pp., October 2018) introduces beginners to the magic of electronics. With easy-to-follow instructions, it's sure to be the perfect book for young readers who want to understand the everyday electronics around them and gain the skills and confidence needed to vent ...
Read more

›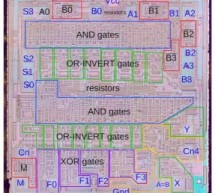 What's inside a TTL chip? To find out, I opened up a 74181 ALU chip, took high-resolution die photos, and reverse-engineered the chip.1 Inside I found several types of gates, implemented with interesting circuitry and unusual transistors. The 74181 was a popular chip in the 1970s used to perform calculations in the arithmetic-logic unit (ALU) of minicomputers. It is a moderately complex chip containing abou ...
Read more

›