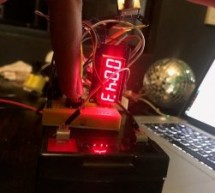 Note from the author: In an effort to get this ready in time for the safe and secure challenge, I have had to make a few compromises to my box, but that doesn't mean you have to! I have left my original ambitions in the text, as inspiration for you to make the best Time Delay Lockbox you can think of. I was teaching myself to weld and thought I'd make something useful. The Premise Were you the kid who ate ...
Read more

›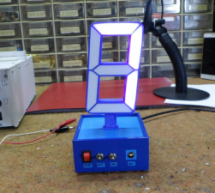 Have you ever looked at the time, and then had to look again because it just didn't register? This phenomenon seems more prevalent with phone timepieces, but it's been known to happen with standard wall clocks, too. This latest offering in a stream of unusual clocks fashioned by [mircemk] solves that problem by forcing the viewer to pay attention as the time flashes by in a series of single digits, separate ...
Read more

›
This  reaction time game tests the time taken by two players to react, and declare the fastest one as a winner. To do this I am using external interrupts and pin change interrupts in atmega328p. It gives four chance to each play, time of each chance is summed up and then the player with minimum time is declared as the winner. For the demo purpose, I'll be using pseudo random function in it, just to keep tra ...
Read more

›
REQUIREMENT: WiFi Access with SSID and password if necessary So this Lazy Old Geek (LOG) has a couple of clocks in my bedroom. One of them loses time when the power is lost. The other is semi smart and automatically adjusts for Daylight Savings Time. Unfortunately, it does this using the old standard so I have to re-set the time four times a year. Well, I'm LAZY so I decided to make my own Clock. At first I ...
Read more

›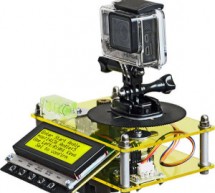 The controller will rotate your GoPro over a set angle for a set duration or will rotate you GoPro for a full rotation for a set duration. This project is based on the original instructable by Tyler Winegarner See instructable here and also from Mark Wheeler's version of Tyler Winegarner's instructable See Mark Wheeler's instructable here or his web site here . My instructable combines software and hardware ...
Read more

›
I own one of these small action cameras (SJcam SJ4000). I bought it because it's small, and easy to take with you wherever you go. To make nice stable videos I mount it on a mini tripod. This got me thinking that it would be fun to have a little motor between the tripod and the camera to slowly pan the camera. That way I can make nice time lapse videos. I happened to have a couple of 28byj48 stepper motors ...
Read more

›
This project describes how you can build a mobile real time GPS tracker with integrated Google Maps. I began this project mainly to see if I can integrate all the different pieces of hardware and software to make a workable solution, and it took some time, but finally when everything was said and done, it looked pretty cool. I tore down everything and rebuilt it from scratch, making detailed notes and docum ...
Read more

›
With this project you can build an RFID time-clock system to keep track of employees, children and more. Updated 18/03/2013 Recently I was listening to a friend who has three teenage children, of whom needed to arrive home before their parent. Unfortunately the parent needs to work all day and arrives home in the evening, and they lamented not being able to check when the children had arrived home. After a ...
Read more

›
A month ago I knew nothing about Arduino and now.....my first project! Looking back, this project combines allmost all of the tutorials that I have read in this short period: blinking LED, push button, piezo and LCD display. A useful project for every beginner! I have made this device for some of my friends who have a hard time admitting how fast alcohol influences their driving abilities. It will test you ...
Read more

›