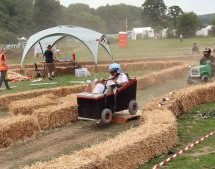 Running a brushed motor in muddy or dusty environments takes a toll on controllers, with both heavy back EMF and high stall currents. This explains one of the challenge in Europe's Hacky Racer series, which is decidedly more off-road than America's Power Racing Series. In pushing these little electric vehicles to the limits, many builders use brushless Chinese scooter motors since they're both available and ...
Read more

›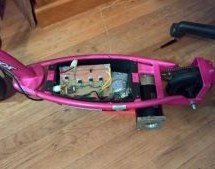 Beyond pride, the biggest issue keeping adults off small motorized scooters is the fact that their tiny motors usually don't have the power to move anything heavier than your average eighth grader. That didn't stop [The_Didlyest] from snapping up this $7 thrift store find, but it did mean the hot pink scooter would need to be beefed up if it had any hope of moving 170 lbs of hacker. Logically, the first ste ...
Read more

›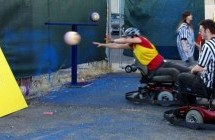 Psycho Scooter Scramble is a blind-driving electric wheelchair game. It consists of two riders, strapped into electric wheelchairs, and two blindfolded pilots, who remotely control the wheelchairs from the sidelines based on information given over headset by their driver. The basic mechanic is simple: players must drive across the court to get a ball from a stand, then drive back across to put the ball in a ...
Read more

›