How many mundane devices upgrade to IoT because they let you monitor a single data point or a variable? That little nudge over the communication precipice allows you to charge 500% more. Now, if you are as handy as a Hackaday reader, you can throw a lazy afternoon at the problem and get the same effect from a "dumb" appliance. If IoT is as simple as getting a notification when your laundry is dry, or your w ...
Read more

›
Most inexpensive pushbutton switches, particularly pc-board-mounting and membrane types, have momentary action. Latching types are often larger and relatively expensive, and they frequently are unavailable in the style you'd like to use. You can thus have a problem if you need a small, inexpensive on/off switch for latching power to a load. The circuit in Figure 1 shows how you can use a simple, momentary-a ...
Read more

›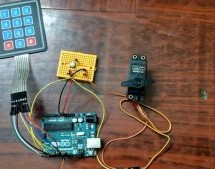 This a door lock built as fun project.It is quite easy to build and a fun way to learn and improve your knowledge of arduino.I tried to add a 16*2 display but there werent enough GPIO pins on arduino Uno.If You are interested in adding a display you would need an arduino Mega. Items Needed Arduino UNO Jumper wires Servo(or anyother component to open a door lock like a linear actuauator) Keypad(I used a 4*3 ...
Read more

›