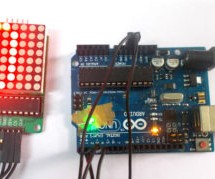 In this project we are going to design an 8x8 LED matrix display, for that we are going to interface an 8x8 LED matrix module with Arduino Uno. An 8x8 LED matrix contains 64 LEDs (Light Emitting Diodes) which are arranged in the form of a matrix, hence the name LED matrix. These matrixes can be made by circuiting 64 LEDs, however that process is time consuming. Now a day they are available in compact forms ...
Read more

›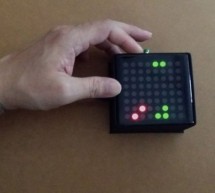 We have built quite a few projects using the Bi-color (Red and Green) LED Matrix Driver Module kits from jolliFactory and have published them as instructables here. Each of these modules uses two MAX7219 Display Driver ICs to drive a Bi-color LED Matrix. These ICs are excellent because they take a lot of work off the micro-controller and simplify the wiring and logic design. These modules are designed to be ...
Read more

›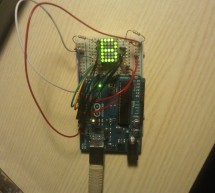 In my component drawers I have a LTP-7357AG, which is a matrix of 35 green LEDs conveniently packaged in a 12-pin display. I wanted to play with it so I began to hook it with my Arduino Uno. This post is part of a series about programming Arduino applications in C. I'm going to show the results first, and then give an explanation of what I did and why. The following image shows that the Arduino is capable o ...
Read more

›
In this inst'able, I will show you how to create your very own 4x6 LED matrix as well as show you how to write code for it! There is an animation creator program in step 4! Here is one ANIMATION to get you excited about the project! ***Wave Animation*** Hello everyone! I'm back with an all new Inst'able! This Inst'able is for the electronic enthusiast/hobbyists that has basic knowledge of the simple hardwar ...
Read more

›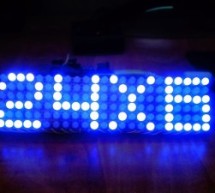 After making a 8X10 matrix a lot of people asked me about expanding the matrix to some thing bigger, and some wanted to write stuff to the matrix via a PC, so one day I looked at a pile of LEDs that I had leftover from a LED cube projected and I decided to make a bigger matrix with all the things people wanted. So what are you waiting for? Get those LEDs out and heat up your soldering iron because we are ab ...
Read more

›
For a party we were about to have I wanted a cool light display to use with my new Xmas present  - an Arduino Uno. Having looked at the LED matrix's here I wanted a bigger one that  I could hang on the balcony. I also wanted it to interact with music and flash at different sound levels and have a keypad to select which animation to run. Thus I came up with this one using some spare  Xmas lights I had alread ...
Read more

›
This project is a part of experiments done while doing an artist in residence at Instructables. You can see the other projects here. Creating emergent patterns that can be converted into sounds fascinates me. So this is my first experiment in building an arduino platform for creating such patterns. This version uses a Gameduino as its sound processor and uses particles that bounces around on a led matrix as ...
Read more

›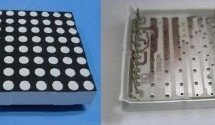 In this project, you shall again use two sets of shift registers. These will be connected to the rows and columns of the dot matrix display. You will then show a simple object, or sprite, on the display and animate it. The main aim of this project is to show you how a dot matrix display works and introduce the concept of multiplexing because this is an invaluable skill to have. Step 1: Things Required for t ...
Read more

›