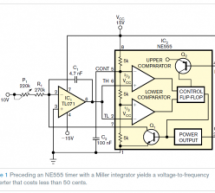 In 1971, Signetics—later Philips—introduced the NE555 timer, and manufacturers are still producing more than 1 billion of them a year. By adding a few components to the NE555, you can build a simple voltage-to-frequency converter for less than 50 cents. The circuit contains a Miller integrator based on a TL071 along with an NE555 timer (Figure 1). The input voltage in this application ranges from 0 to –10V, ...
Read more

›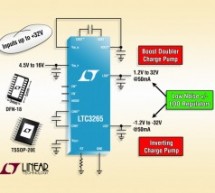 Features Boost Charge Pump Generates 2 • VIN_P (VIN_P Range: 4.5V to 16V) Inverting Charge Pump Generates –VIN_N (VIN_N Range: 4.5V to 32V) Low Noise Positive LDO Post Regulator Up to 50mA Low Noise Negative LDO Post Regulator Up to 50mA 135μA Quiescent Current in Burst Mode® Operation with Both LDO Regulators On 50kHz to 500kHz Programmable Oscillator Frequency Stable with Ceramic Capacitors Short-Circuit/ ...
Read more

›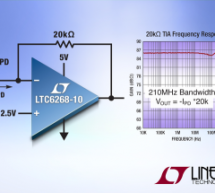 Features Gain Bandwidth Product: 4GHz Low Input Bias Current: ±3fA Typ. Room Temperature 4pA Max at 125°C Current Noise (100kHz): 7fA/√Hz Voltage Noise (1MHz): 4.0nV/√Hz Extremely Low CIN 0.45pF Rail-to-Rail Output AV ≥10 Slew Rate: +1500V/μs, –1000V/μs Supply Range: 3.1V to 5.25V Quiescent Current: 16.5mA Operating Temp Range: –40°C to 125°C Single in 8-Lead SO-8, 6-Lead TSOT-23 Packages Dual in 8-Lead MS8 ...
Read more

›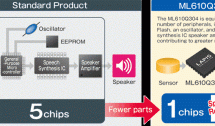 LAPIS Semiconductor, a ROHM Group Company, has recently announced the development of a low power microcontroller that integrates an 8bit low power MCU core, speech synthesis circuit, high efficiency Class D speaker amp, non-volatile memory, and oscillator circuit on a single chip, making audio playback possible by simply connecting to a speaker. The ML610Q304 also provides hardware-based audio playback oper ...
Read more

›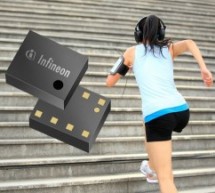 Munich, Germany – February 26, 2015 – Infineon Technologies AG (FSE: IFX / OTCQX: IFNNY) has launched an ultra-high ±5cm resolution, miniature MEMS (Micro Electro Mechanical Systems) pressure sensor for use in mobile and wearable gadgets and IoT (Internet of Things) devices. The DPS310 is a low-power digital barometric pressure sensor that enables the development of new and enhanced navigation, location, we ...
Read more

›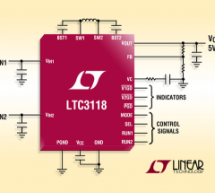 Features Integrated High Efficiency Dual Input PowerPath™ Plus Buck-Boost DC/DC Converter Ideal Diode or Priority VIN Select Modes VIN1 and VIN2 Range: 2.2V to 18V VOUT Range: 2V to 18V Either VIN Can Be Above, Below or Equal to VOUT Generates 5V at 2A for VIN > 6V 1.2MHz Low Noise Fixed Frequency Operation Current Mode Control All Internal N-Channel MOSFETs Pin-Selectable PWM or Burst Mode® Operation Ac ...
Read more

›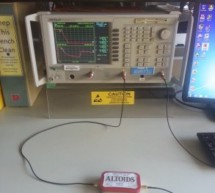 I've been playing with the DRA818V modules that have been making quite a stir in the amateur radio world at the moment. I haven't gotten one on a spectrum analyzer yet, but I have reason to believe that it will require a low pass filter to be RF legal. I'll write more about that once I get a look at it, but figured I'd first built myself a low pass filter in case I need it (if not for these modules, but som ...
Read more

›
A "Joule Thief" is a simple voltage booster circuit. It can increase the voltage of power source by changing the constant low voltage signal into a series of rapid pulses at a higher voltage. You most commonly see this kind of circuit used to power LEDs with a "dead" battery. But there are many more potential applications for this kind of circuit. In this project, I am going to show you how you can use a Jo ...
Read more

›