We already know, that Switches MEC Unimec switch in up to eight ways and also that they´re available as momentary or alternate (latching). UNIMEC switches feature perhaps only one "disadvantage" - that on the same PCB no other higher components can be used (which would be higher than the switch). If you´re satisfied with the UNIMEC features, but despite that you cannot use them in your application right for ...
Read more

›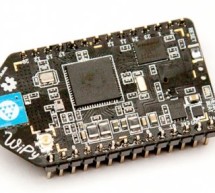 >>> The Internet Of Things It's concept is quite simple; the idea is to provide intelligence to everything that surrounds us, connect it to the internet, bring it to life, and make lots of cool things happen. Sounds nice, but how do you that? Here is the answer… >>> Meet the WiPy A small, super low power, inexpensive, and 100% Python programmable IoT development board. The WiPy takes the w ...
Read more

›
This is a project for Arduino to make a 2D Level, aimed at beginners. Arduino draws a circle on an LED Matrix that moves around according to readings from a 2D Accelerometer. Objectives: * Learn how to draw a circle using simple Maths * Learn how to use the LOL shield for the Arduino * Learn how an accelerometer works Step 1: What you need You will need: * Arduino UNO * LOL shield   (http://jimmieprodgers.c ...
Read more

›