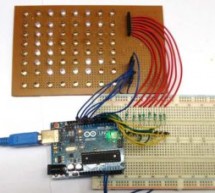 In this tutorial we are going to design an 8x8 LED Matrix Scrolling Display using Arduino Uno, which will show scrolling alphabets. 8x8 LED Matrix contains 64 LEDs (Light Emitting Diodes) which are arranged in the form of a matrix, hence the name is LED matrix. We are going to make this Matrix by soldering these 64 LEDs on to the perfboard or DOT PCB. The LEDs can be of any color, choose the ones which are ...
Read more

›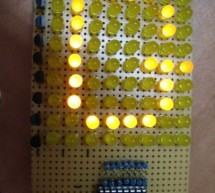 UPDATE 1: I HAVE ADDED THE CODE FOR CONWAY'S GAME OF LIFE UPDATE 2: NOW YOU CAN SAVE SOME ARDUINO PINS WITH THE HELP OF 1 SHIFT REGISTER. In this instructable I will show you how to build a quite fancy 8 by 10 L.E.D matrix(with scrolling text and animations) using the Arduino and 4017 decade counter. This type of matrix is easy to make and program and it is a good way learn how to multiplex. I have added an ...
Read more

›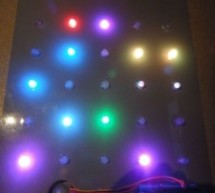 what: a 5*5 rgb led matrix, made with arduino and lpd6803 based leds from adafruit. with an pir sensor, it goes on if it detects movements and a ir distace sensor, 1 animation shows the distance you have from the sensor :). why: because its beautiful and cool ;) my spelling: well, sorry if i make stupid spelling mistakes, i'm dyslectic and live in Holland Step 1: How it works how it works: it uses an arduin ...
Read more

›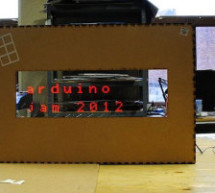 First of all we would like to thank everybody that helped organizing the 2nd edition of Arduino Jam, and especially the Jo3ri, who supplied us with some quite cool goodies and kept us safe during the weekend. (Video will come soon!) This project is a contribution to the second belgian Arduino Jam (2012) at Timelab, Ghent. During this edition I teamed up with Jeff to build a mechanical light ticker display. ...
Read more

›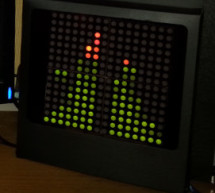 After we came up with the Bi-color LED Matrix Driver Module kit, we have been looking around for interesting projects to work with it. You may be interested in some of the projects we have put up at instructables using this LED Matrix kit. Instructable to build a Arduino (SPI) 7 Bi-color LED Matrix Scrolling Text Display Instructable to build a Arduino based Bi-color LED Matrix Tetris Game Most electronics ...
Read more

›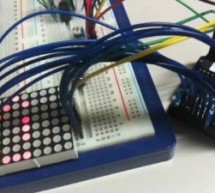 LED displays are often packaged as matrixes of LEDs arranged in rows of common anodes and columns of common cathodes, or the reverse. Here's a typical example, and its schematic: These can be very useful displays. To control a matrix, you connect both its rows and columns to your microcontroller. The columns are connected to the LEDs cathodes (see Figure 1), so a column needs to be high for any of the LEDs ...
Read more

›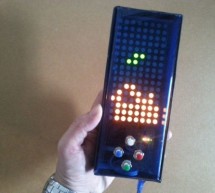 One of the electronics DIY kit jolliFactory came up with is the Bi-color LED Matrix Driver Module Kit. This module is designed to be chain-able so that you may daisy-chain the modules together to the number of modules you need to suit your project. The following are some of the projects built using this Bi-color LED Matrix Driver module: Instructable to build a 7 Bi-color LED Matrix Scrolling Text Display I ...
Read more

›
A monochrome (single colour) LED dot matrix display is used for displaying the Characters and Symbols which is interface with a microcontroller. This project will deliberate on displaying a scrolling text message on a 48×8 LED dot matrix display. The microcontroller used is Arduino Uno which is open source prototype Electronic platform. The 48 columns of the LED matrix are driven individually by six shift r ...
Read more

›