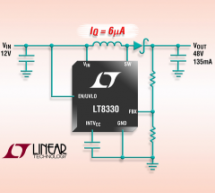 Features 3V to 40V Input Voltage Range Ultralow Quiescent Current and Low Ripple Burst Mode® Operation: IQ = 6μA 1A, 60V Power Switch Positive or Negative Output Voltage Programming with a Single Feedback Pin Fixed 2MHz Switching Frequency Accurate 1.6V EN/UVLO Pin Threshold Internal Compensation and Soft-Start Low Profile (1mm) ThinSOT™ Package Low Profile (0.75mm) 8-Lead (3mm × 2mm) DFN Package Descriptio ...
Read more

›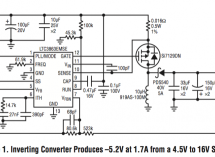 There are several ways to produce a negative voltage from a positive voltage source, including using a transformer or two inductors and/or multiple switches. However, none are as easy as using the LTC3863, which is elegant in its simplicity, has superior efficiency at light loads and reduces parts count compared to alternative solutions. Advanced Controller Capabilities The LTC3863 can produce a –0.4V to –1 ...
Read more

›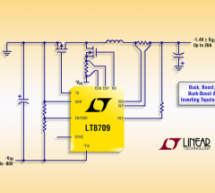 A synchronous PWM controller for negative-to-negative or negative-to-positive DC/DC conversion, the LT8709 from Linear Technology is easily configured for buck, boost, buck-boost, and inverting topologies to accommodate a wide range of power-supply designs. The device's synchronous operation means that the output diode is replaced with a high-efficiency P-channel MOSFET, increasing efficiency and allowing f ...
Read more

›