A synchronous PWM controller for negative-to-negative or negative-to-positive DC/DC conversion, the LT8709 from Linear Technology is easily configured for buck, boost, buck-boost, and inverting topologies to accommodate a wide range of power-supply designs. The device's synchronous operation means that the output diode is replaced with a high-efficiency P-channel MOSFET, increasing efficiency and allowing for higher output currents of up to 20 A. It also eliminates the heat sink typically required in medium- to high-power applications.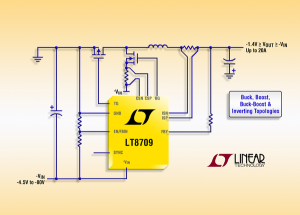 The LT8709 operates over an input range of -4.5 V to -80 V and produces an output from -0.1 V to as high as 60 V or from -1.4 V to as low as -80 V. Its rail-to-rail output-current monitor and control enable the device to be configured as a current source. The controller has an EN/FBIN pin that accepts slowly varying input signals, as well as an adjustable undervoltage lockout function.
A fixed operating frequency is selectable from 100 kHz to 750 kHz and can be synchronized to an external clock. The LT8709 is configurable for either forced continuous or pulse-skipping operation during light load conditions. Additional features include a power-good indicator, thermal shutdown, and integrated soft-start circuitry.
For More Details: Buck/boost/inverting controller delivers up to 20 A