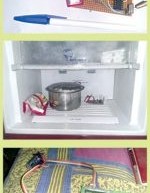 We can measure temperature and humidity inside the fridge using a normal temperature-humidity indicator but relative humidity (RH) could be inaccurate in that case. The moment the fridge door is opened, RH will shoot up due to ingress or egress of moisture in the surroundings. The small sniffer device, described in this article, picks up temperature and humidity from inside the fridge and transmits on an RF ...
Read more

›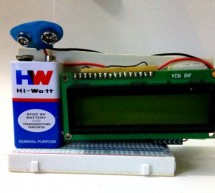 Do you have a habit of leaving notes on the fridge, now take it digital and add an Arduino to it. In this instructable I'm going to show you how to do just that. All you need is an Arduino, an LCD screen and a Bluetooth module to make this and a Android mobile to upload your note wireless. I tried to keep it as small as possible and it is powered by a 9V battery. Check out my Facebook page and like it to su ...
Read more

›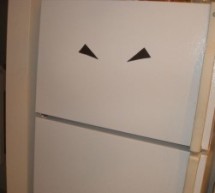 I have a problem, I'm trying to lose weight but I love snacking late at night. And no one knows that I even do it. That being one of my biggest hurdles, I figured why not include all my social media friends and followers in helping me. Whether they know it or not. So I decided to hook up my fridge to the internet, with an arduino and wishield and have it post to facebook and twitter whenever I try and get m ...
Read more

›