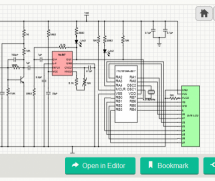 Morse code is used in telecommunication; it is a method of transmitting and receiving coded information. Each character (letter or numeral) is coded/represented by a unique sequence of dots and dashes. Compared to voice, Morse code is less sensitive to poor signal conditions, yet still comprehensible to humans without a decoding device, therefore, a useful alternative to synthesized speech for sending autom ...
Read more

›
In this instructable i will explain how to connect 7 segment display, decoder and arduino. It´s pretty easy. At first we have to learn something about decoder. I´m using BCD to 7 segment decoder. My is D147D, this is old chip, but the newer are similar. Documentation about one of them you can find here . Description of D147D you can see on picture two. There are four pins for sending BCD code to the decoder ...
Read more

›
This instructable shows how to use some freely available code, an arduino, and a standard magnetic stripe reader to scan and display the data stored on magnetic stripe cards such as credit cards, student IDs, etc. I was inspired to post this after reading the intro to magnetic stripe reading and Stripe Snoop that is found in MAKE magazine Volume 1. That tutorial details how to interface a stripe reader to a ...
Read more

›