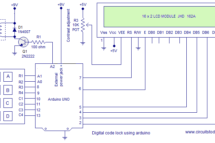 We have published a digital code lock using arduino some weeks before. This one is a little different. The earlier version was based on a defined password, where the user can not change it. Moreover there was no LCD display interfaced with the project to output lock status. This project is a much improved version of the same digital code lock which comes with a user defined password and LCD display. The use ...
Read more

›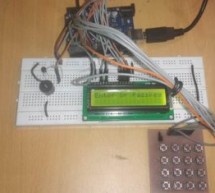 Security is a major concern in our day to day life, and digital locks have became an important part of these security systems. One such digital code lock is imitated in this project using arduino board and a matrix keypad. Components Arduino Keypad Module Buzzer 16x2 LCD BC547 Transistor Resistor (1k) Bread board Power Connecting wires In this circuit we have used multiplexing technique to interface keypad ...
Read more

›
Digital code lock or digital combination lock are a type of  digital locks where a combination of digits/characters or both are used for unlocking the lock. This article is about a simple digital code lock using arduino. Here the code consists of a combination of  digits from 1 to 6. There are separate keys for locking and unlocking the system. The system can be unlocked by pressing the unlock button after ...
Read more

›