A hideaway cat litter box is a great way to make your apartment look like a residence for adults instead of crazy cat ladies. A hidden litter box in a cabinet, under a sink, or built in to some other furniture does a lot for appearances, but what about the smell? Here's how you can exploit the power of baking soda and embedded computers to keep your apartment fresh-smelling without disturbing your cat durin ...
Read more

›
The CatBot is an autonomous laser toy for your cat. You may say "But Joe, isn't the laser pointer the best toy for the lazy cat owner?" I'd have to say no, the CatBot takes one step further. Using two servos, an Arduino and a cheap $3 laser you can provide your cat with endless fun. Step 1: The Problem I was buying pet food and saw a $3 laser from PetCo. I thought the cat might like it. I was wrong. The cat ...
Read more

›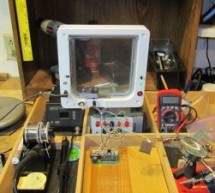 Note: to see everything on one page, please go to: www.tweetingcatdoor.com After receiving many emails requesting Instructions and Kits for building the "Tweeting Cat Door ", I decided to make a version that is stand-alone and doesn't need a computer to be run and that is easy to be put together by anyone with a soldering iron and a little time on hand. All the software is available to download, but feel fr ...
Read more

›
I am submitting this instructable to the Arduino challenge. Please remember to vote! My neighbor had a little problem with his cat. It want's to go out and back inside too frequently. Usually he opens just his kitchen window and let's the cat in/out. Usually the cat stays only short periods outside and want's soon to come back inside. And then again out and back in. Okay, he could just let the window open, ...
Read more

›