STMicroelectronics announced the release of the VL53L3CX, a capability expansion of the company's FlightSense ToF ranging sensors, with a patented histogram algorithm.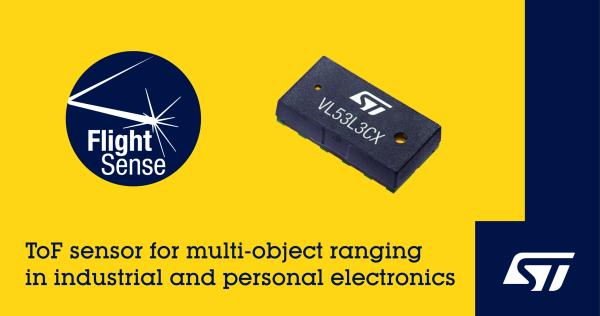 The new sensor measures object ranges from 2.5cm to 3m, remaining unaffected by color or reflectance.
The histogram algorithm increases cover-glass crosstalk immunity and allow real-time smudge compensation preventing external contamination from adversely affecting the ranging accuracy for a number of applications.
Further, the VL53L3CX has increased linearity, increasing short-distance measurement accuracy. This enhances wall tracking, cliff detection, and obstacle avoidance in equipment.
ToF sensing help to heighten the perperformance of application by allowing for more accurate occupancy detection in building-automation and lighting controllers, smarter proximity sensing in IoT endpoints, more convenient auto-wakeup in portable devices, and more robust user detection in automatic sanitary equipment.
Read more: STMICROELECTRONICS EXPANDS PORTFOLIO OF FLIGHTSENSE TOF RANGING SENSORS