Compact installation step relays Finder 26 series save energy similarly like latching relays, but they also operate on AC voltage.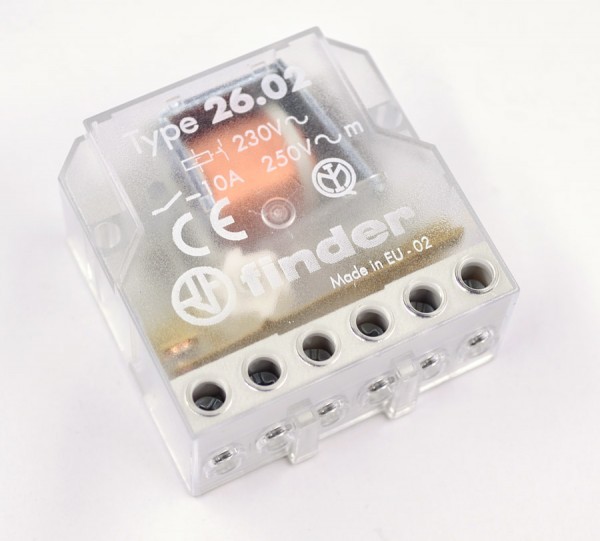 Step relays are able to effectively control lighting or other devices and they significantly simplify circuit complexity at the same time. If you´re familiar with a bistable (latching) relay, then you know, that a relay can keep its status (On/Off) even without a power supply. A step relay, which we´d like to introduce to you this time, is mechanically significantly different from latching relays, but it also features this energy-saving property – i.e. maintaining the On/Off status even without a power supply.
A step relay is usually available with an AC coil and it´s very simply controllable by one push-button switch (momentary SPST-NO). The principle of the step relay is in the fact, that a driving coil mechanically moves a contact mechanism in various sequences. Each switching of a relay (switching a power to a coil) moves a mechanism in one "step" further. In the simplest case the sequence looks as On/Off/On/… But it also can be in other way, as illustrated in the attached picture. Step relay are probably the most frequently used for switching of lighting. This is enabled by a fact, that simple push-button switches, controlling a coil, are connected in parallel. In result, the circuitry gets much simpler and to control one or two lighting circuits from several places, it´s necessary to use only 2 wires (moreover only with a small cross-section – say 0,5mm2). Second saving is in a practically zero power consumption of the relay itself, as energy is only necessary to change a relay status.
For more detail: With a step relay Finder 26 can be saved energy and also installation costs