About
So for my Junior prom, I really wanted a dress I had seen online that was blue with a sequin ombre, but it was out of my price range, and way too voluminous. My mom and I had made my Homecoming dress the year before, so we decided we could tackle a prom dress, and after some internet surfing lead me to discover the Arduino had a sewable model, I was sold on the idea of making my prom dress. We stocked up on beautiful fabric and a simple pattern from our local sewing/crafts store and got to work two months before prom. With AP exams rolling out at the same tome, it wasn't until two weeks before prom that I had finished construction of the dress to the point where I could put lights in. Then it was crunch time.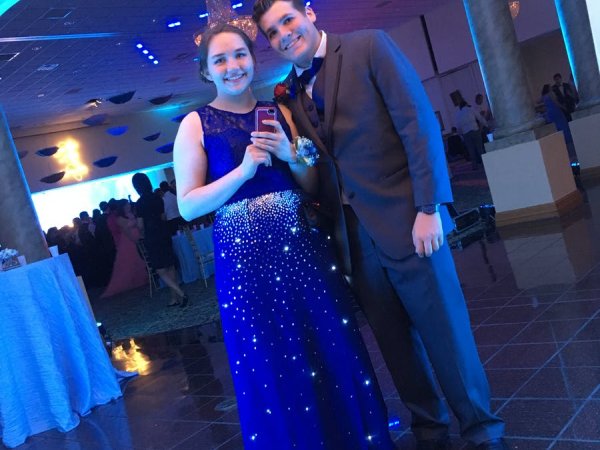 Step 1
Once I was able to start sewing the lights in I realized that the process was much more drawn out than I expected. I connected the lights with conductive thread, which I couldn't create an e-textile out of as it would bunch the fabric, so I had long strings running through my dress that would easily short. The dress behaved like a broken toy, I would hold it up to my body and only half the lights would turn on, until I shook it and some turned on and others turned off. I was running low on time when my dad offered me his hot glue gun and his box of shrink wrap, and I got back to work, this time with more success.
 After I got the initial ten lights sewn in one of the three front panels of my dress, I was able to sew in the rest of the total thirty lights the next night, at an average pace of 15 minutes/light.
Step 2
After sewing all my lights in I had untested code I wanted to upload. My lights were wired in five groups, so I could independently control each horizontal strip of lights, and the test code I had while sewing was a simple descension. Throughout the school day I had written code on my laptop to cycle through various other patterns, which by some insane luck worked perfectly the first time at 11:30 pm (which was my mom's deadline for me to head to bed).
All the construction was finished up and I put my makeup on while my wonderful mom did the hem, and we finished 2 hours before my group arrived for pictures.
Step 3
The power source was a 3.7 volt rechargeable battery for a laser pointer that I connected to a Lilypad button battery holder by hot gluing wires to the holder, and taping them to the battery. It lasted all night long, except for the few minutes when the battery disconnected because I accidentally tugged it loose. All the wiring stayed concealed, and the Lilypad fit perfectly in the pocket I had added to the dress pattern. I was super pleased with the results, and I loved seeing the reactions of people as they realized my dress lit up.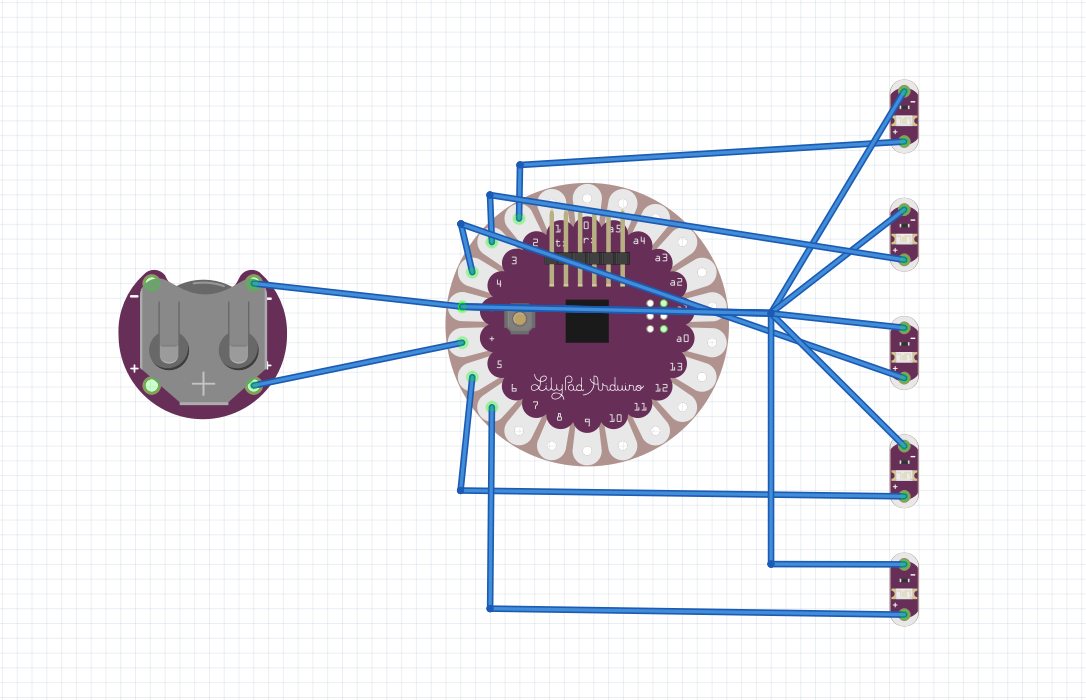 Conclusions
Special thanks to my mom, who let me do most of the sewing, but helped with all the tricky parts and dealt with the hectic time crunch even with her own deadlines; to my dad who did not understand what was going on half the time and still gave project-saving advice; and to my wonderful boyfriend who dealt with my insanity and encouraged me every time I doubted myself.
For more detail: Starry Night Prom: How did I stand out at prom? In a light up dress of course!