The world's first 100MS/s open source oscilloscope for iPad, Android and PC. A must-have for every Arduino and Raspberry Pi developer!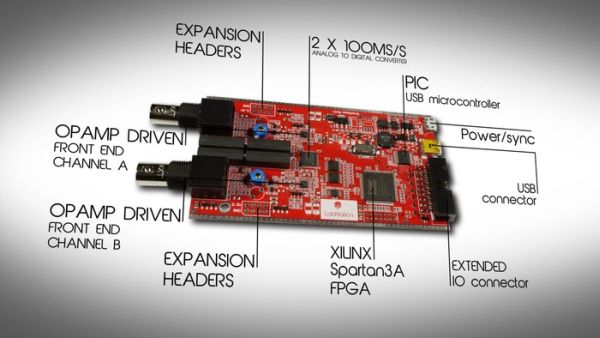 SmartScope
The SmartScope combines 3 high-end instruments into 1 mobile, smart device. Accessible previously only to high-tech labs, the SmartScope allows everyone to own a personal lab!
Starring a dual-channel 100MS/s oscilloscope, the SmartScope is the world's first lab instrument which works on both PC, laptop, tablet and smartphone. This is a must-have for any maker, and for anybody involved in hardware development!
Key Product Highlights
2x100MS/s 45MHz Oscilloscope
50MS/s Arbitrary Waveform Generator
Digital logic analyzer at 100MS/s
Digital waveform generator at 100MS/s
200 waveforms/second data updates
Demo movie
Make sure to check out this movie, where we show the current status of the SmartScope:
Open source
By giving full access to the framework of the SmartScope, a whole new dimension of possibilities is opening up. In its most basic form, this open framework allows you to hook up your creation to the extension ports of the SmartScope and control it from your PC or smartphone.
When you're taking on more advanced projects, you'll appreciate the full access you have to the powerful FPGA. The framework is based on FPGA registers which you can control from the PC or tablet, giving you full control over your FPGA from the first moment you're starting. Even more, since you can flash the FPGA through the USB controller, you don't need to invest in expensive programmers!
Even more advanced projects can make use of the full-speed bi-directional data transfer capabilities, transferring data to or from your device.
Initially, all source files of the full framework will be presented as a git repository, together with additional repositories focusing on extremely simple samples, showing how to start developing for each of the components of the SmartScope. This will hopefully create community branches, which will be added to our community site.
For more detail: SmartScope – 100MS/s Open Source Oscilloscope for mobile devices and PC (Kickstarter)