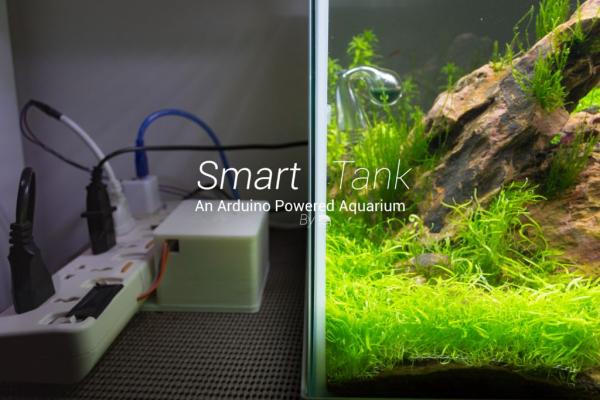 It can be a daunting experience buying, setting up and maintaining (or even thinking about) a fish tank and if they have the time needed for this hobby to keep their new friends alive. I have recently brought my first Aqurium and i personally went through the thought process of: Smart Tank – Arduino Powered Aquarium:
Smart Tank – Arduino Powered Aquarium:
Have I got enough time for the tank?
Have I got enough Knowledge to keep the tank and the fish alive?
And then the user begins to do subtle research on the topic and discover things like diseases, Co2 levels/PH levels, water hardness, the duration for lighting and types of filters. All this new information is like a wall that the user has to overcome to have a functional Aquarium, this wall can turn people away from the enjoyable hobby very quickly. I personally felt I wasn't up to the responsibility of these creatures due to my forgetful nature. On top of that, who will keep care of the fish when they are not there? For a day, a week, a holiday?
The AAS, short for Automatic Aqurium System, is a work in process mighty project that aims to be the step ladder over the wall for new users.
But what about people that have Aquariums:
The market is still there. I know multiple friends who have over 6 tanks that are used for both breeding grounds and to look nice. They too struggle with keeping care of them when they are not there, keeping care of and monitoring all 6 tanks and when they too are busy, ensuring it is maintained.
I definitely believe all levels of Aquarists can benefit from this idea, and I set about to make it.
Step 1: AAS – Solution
The solution:
I am going to split this part into two parts, what I have achieved in the time frame I set out for myself and what I want to make during the summer (this will get updated with the new changes).
I aim to design a product that can control the main parts of an aquarium by itself on using both time and a predicted function.
So what does that mean?
The main parts of an aquarium that i have identified are:
Lights
Food
Co2 system (if they have it)
Filter
Any other devices the user has
So what functions do I aim for it to have:
Turn on and off the components that they have
Feed the Fish
Be able to record data such as temperature, PH and water levels (ammonia levels and more)
For the user to be able to easily understand the results
So how do I set about achieving this?
My thought process:
For this project, I wanted to focus on the core of the project so I could, in the future, build upon it. I decided that the main part of this was to be able to turn on and off the user's devices on a timely base.
How would i do this?
Idea #1: Solder all the components to one main system and control it from there.
Pros:
Direct control over all devices
Endless amount of devices
Cons
The user would need to know how to solder!?
The whole device could lack power/current as it would be unevenly distributed.
Read More