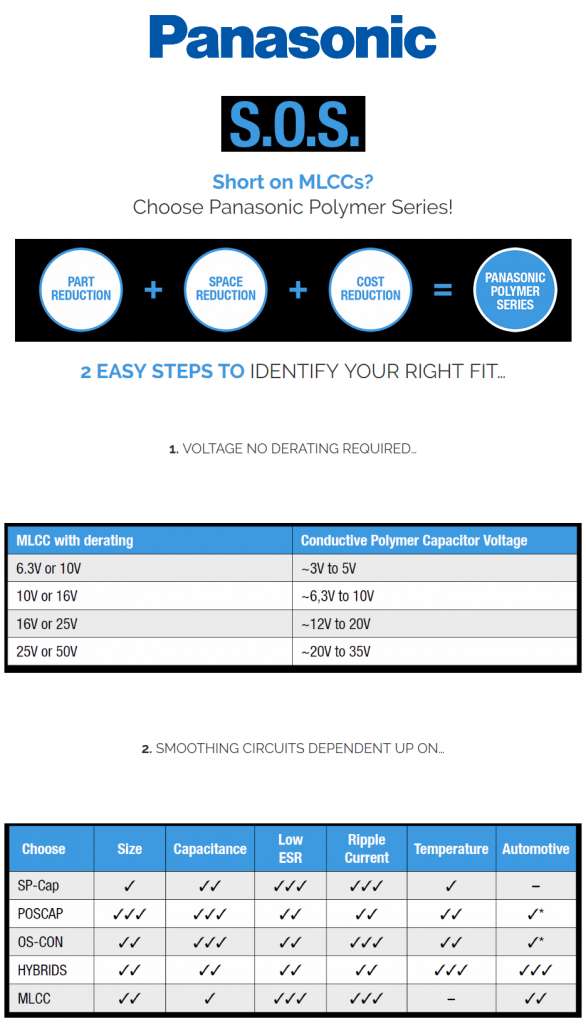 *Only infotainment or non-safety critical circuits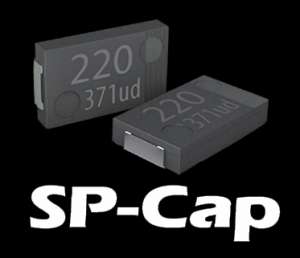 Panasonic has expanded the CS, CT, and CX SP-Cap series to include higher voltage caps with range up to 35V. The newest additions to the SP-Cap product line features high voltage, low profile, high-temperature reflow, and unique electrode materials for high withstanding voltages. The higher voltage SP-Caps are used with DC/DC converters, output signal stabilization, and filtering. Panasonic's SP-Cap Polymer Organic Aluminum Capacitor is a surface mount aluminum electrolytic capacitor that uses a conductive polymer as its electrolyte in layered aluminum construction. The SP-Cap product line from Panasonic consists of multiple series that offer capacitance range up to 560µF, voltage range from 2VDC to 35VDC, and the lowest ESR/impedance in the industry, achieving very good noise suppression and transient response. Unlike MLCCs, SP-Caps are free from temperature drift and DC/AC bias characteristics. In addition, voltage deration is not needed in SP-Caps, as in tantalum capacitors, due to their safety features. SP-Caps are the perfect solution for input and output capacitor for various DC/DC converters.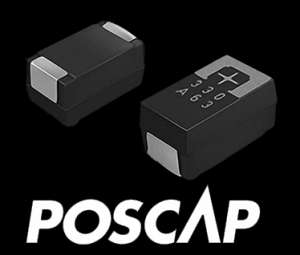 POSCAP utilizes sintered Tantalum as an anode sytem and highly conductive polymer created with Panasonic's unique method as a cathode system. This enabled POSCAP to be thin, small and at the same time have low ESR (Equivalent Series Resistance) and superior high frequency characteristics. These features make POSCAP one of the best candidates for digital/high frequency applications. POSCAP also has high reliability and heat resistance.
OS-CON is an aluminum solid capacitor with high conductive polymer. OS-CON acquires low Equivalent Series Resistance (ESR), excellent noise reduction capability and frequency characteristics. In addition, OS-CON has a long life span and its ESR has little change even at low temperatures since the electrolyte is solid.