Rohde & Schwarz is again expanding its oscilloscope portfolio with the launch of the R&S®RTC1000, R&S®RTM3000and R&S®RTA4000 series oscilloscopes. With this market introduction Rohde & Schwarz has now the most up-to-date 1000, 2000, 3000 and 4000 class instruments on the market.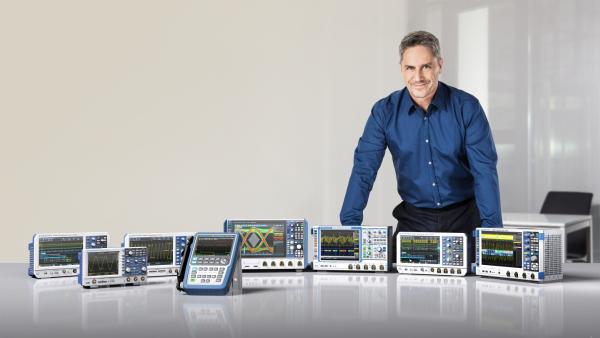 The new R&S®RTC1000 series oscilloscope features the highest instrument integration in its compact form factor. Starting at a price of EUR 835, the instrument's comprehensive features are tailored to meet the needs of users in the field of education, engineers with low budgets and hobbyists.
R&S®RTC1000 oscilloscopes are available in models from 50 MHz to 300 MHz. They are the first in the 1000 class to offer bandwidth upgrades via software license all the way to 300 MHz bandwidth; these upgrades can be purchased as test needs increase over time. The two-channel oscilloscopes have maximum sample rates of 2 Gsample/s and a memory depth of 2 Msample.
The new R&S®RTM3000 oscilloscope offers bandwidths of 100 MHz, 200 MHz, 350 MHz, 500 MHz and 1 GHz. The products incorporate a proprietary 5 Gsample/s 10-bit ADC, and each model includes 40 Msample (80 Msample interleaved) per channel acquisition memory with an optional 400 Msample segmented acquisition memory.
The new R&S®RTA4000 oscilloscope offers bandwidths of 200 MHz, 350 MHz, 500 MHz and 1 GHz. These models include the same 10-bit ADC, but have even more memory, with an astonishing 100 Msample (200 Msample interleaved) per channel acquisition memory and standard 1 Gsample (1,000 Msample) segmented acquisition memory. Both instrument series feature a brilliant 10.1″ capacitive touchscreen display to operate quickly and efficiently. Starting at 3.190EUR
While the R&S®RTM3000 series comes in two- and four-channel models, the R&S®RTA4000 series oscilloscopes are exclusively four-channel models. Base prices start at EUR 3,190 for the two-channel 100 MHz R&S®RTM3002. The four-channel 200 MHz R&S®RTA4004 starts at EUR 5,230. For users with more demanding needs, a number of upgrade options are available. These include 16 integrated digital channels with a mixed signal oscilloscope (MSO) option, protocol decode and triggering options for a variety of industry standard buses as well as an integrated waveform generator.
Read more: ROHDE & SCHWARZ IS EXPANDING ITS PORTFOLIO WITH THE RTC1000, RTM3000 AND RTA4000 SERIES OSCILLOSCOPES