By Steven Keeping
Contributed By Hearst Electronic Products
03/11/2014
Until recently, a lighting designer looking to take advantage of the efficacy, longevity, and robustness of LEDs for his/her next luminaire was faced with some key challenges.
Among the toughest of these was the need to work out how many discrete LEDs were required to achieve the required "lumen density" (light output per unit area) for the product, and then design a circuit board that took into account the power- and thermal-requirements of this array without consuming too much space inside the lamp. Then the engineer needed to make sure that all of the LEDs in the group produced an identical color to meet the consumers' expectations.
Today, a simpler solution is at hand. LED makers have introduced a new form of packaging for their high-power devices: the chip-on-board (COB) LED array. In supplying these units, the LED maker has done the work of matching the individual LEDs and designing a suitable substrate to carry the "light engine." Better yet, COB LED arrays allow LED makers to take advantage of efficiency-enhancing techniques such as "remote phosphor".
This article reviews the latest commercially available examples of COB LED arrays and considers how the sector will develop in the near future.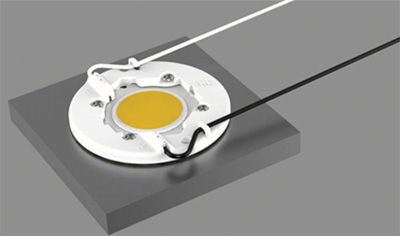 Drawbacks of discrete LED arrays
Although the performance of LEDs has improved dramatically, single devices still do not produce enough output for a mainstream lighting application. For example, a single 100 W, 120 V incandescent bulb generates 1,700 lumens (at an efficacy of around 17 lm/W). In comparison, a popular LED such as OSRAM's OSLON SSL 150 generates 136 lm (350 mA, 3.1 V, 125 lm/W). A lighting designer would need a dozen of these OSRAM devices to provide approximately the same output as the bulb.
This presents problems because of the physical space that the LEDs take up (typically measuring several square centimeters). Moreover, grouping LEDs into arrays also introduces challenges from illumination, optical, and manufacturing viewpoints.
Optimizing the quality of the light from an LED array is difficult. LED manufacturers sort LEDs into 'bins' of approximately the same color correlated temperature (CCT) and luminosity, but closely matching individual devices so that the consumer notices no difference becomes expensive and time consuming.
For more detail: The Rise of Chip-on-Board LED Modules