Cambridge design consultancy Plextek has re-created two GaAs ICs for a US company with an obsolescence issue.
The chips, described only as "GaAs control ICs", were being dropped by their original manufacturer.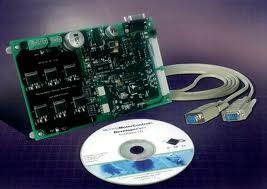 "I suspect they are obsolete because of the MESFET process no-longer being available," Plextek director of RF integration Liam Devlin told EW. "The client used two variants of the device in around 30 different boards, so they had the option of re-designing and re-qualifying 30 boards."
Instead, the board maker asked Plextek to design a replacement compatible with all of its products, and arrange for its manufacture.
"Most modern GaAs processes use a pHEMT, which tend to be lower loss, higher isolation and lower leakage compared with MESFET processes, so we selected a pHEMT process that would allow us to design a drop-in replacement," said Devlin.
The consultancy had the data sheets of the original device.
"But it is not enough to meet data sheet performance," said Devlin. "People get used to the limits that parts are supplied at, rather than the data sheet limits, and if parts are designed to the data sheet limits, the boards don't necessarily work."
Was he tempted to make the replacement better than the original?
"It is tempting, but this was not about improving performance, it is about designing a drop-in replacement," said Devlin. "We studied all of the application boards to make sure it would drop-in."
According to him, the only parameters that varied from the original was lower leakage and higher isolation following the MESFET to pHEMT switch, "which was nice to have".
Plextek provided a turn-key service, selecting the GaAs process and fab – GCS in the US, looking after prototypes, choosing the packaging firm – Cirtek in the Philippines, and sorting assembly and test.
For more detail: Resurrects Plextek obsolete GaAs ICs