Finder monitoring relays are able to effectively signalize a fault status in a mains line and to prevent damages or undue wear-out.
Too high or too low voltage, phase loss or a wrong phase rotation are conditions commonly occurring in an industrial environment. Even though a phase rotation is usually stable, but only one improperly connected lengthening cable is sufficient …. These fault conditions harm to typical 3-phase devices like for example motors and as for a voltage out of tolerance – this usually doesn´t make well to any device. Devices like compressors and gas discharge lamps even don´t like too often switch on/ off (cycling) in case of fault conditions in the mains power line. There is a solution for all these cases – in a form of a simpler of a more sophisticated monitoring relay.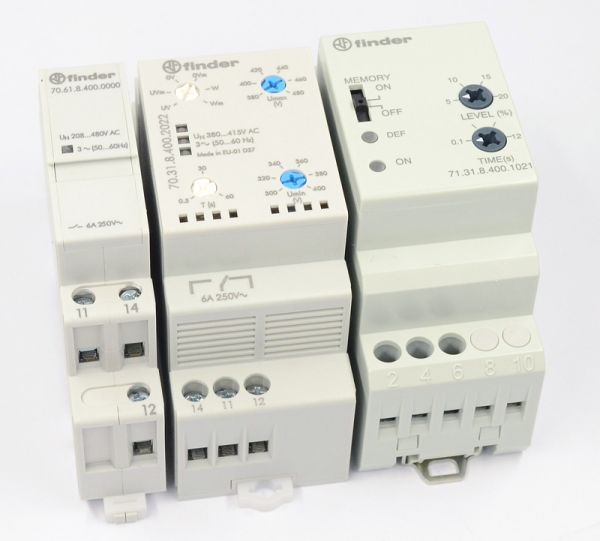 In our offer can be found high-quality components from company Finder – a producer with long-term experience in production of relays. To components intended for monitoring of mains line belong for example series F70 and F71, from which we keep in stock these types: ● 70.31.8.400.2022 – 3-phase electronic monitoring relay. Monitors low voltage (adjustable), high voltage (adjustable), window mode (low + high voltage), adjustable time delay of switching (trip), selectable fault memory, phase loss, phase rotation. Comprehensive indication of all statuses by means of three LEDs
● 70.61.8.400 – compact 3-phase electronic monitoring relay. Monitors phase rotation and phase loss.
For more info: Relay Finder will let you know, when one phase is missing …